Description of Wedge Wire Screens Column Covers
---
Wedge Wire Screens column covers are made of SS V shaped and SS V shaped or SS V shaped and SS rod or SS V shaped and SS Convex shaped rod with the unique computer controlled machinery in which a continuous length of profile wire of a triangular section is fusion welded into support rods. This V shaped profile wire is wound around the support rods over the full length of the screen thus creating a continuous slot opening.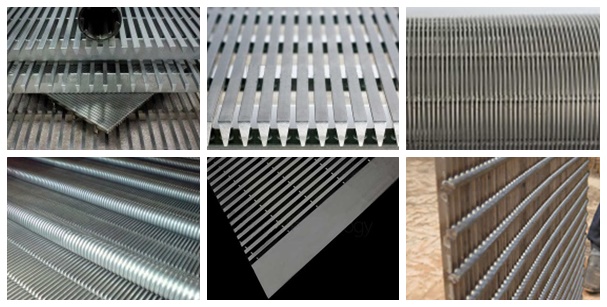 The Screen is used in a wide range of architectural situations such as floor grates to cover water run off drains in places such as driveways, car parks, shopping centres or malls. They can be constructed to carry pedestrian traffic or much heavier traffic such as fork lifts or standard vehicular traffic.
A continuous slot opening which significantly increases the available open area, thus providing a greater access to the water bearing zone.
A 'V' shaped wedge wire which avoids clogging and ensures uninterrupted flow.
A uniform and efficient well development due to the continuous slot opening.
Offering great strength. precision, long service life.
A combination of different support profiles and pitches within one flat screen is possible
Variable spacing between support wires in one screen
Curved screens; curve direction and filtration direction are to be determined by the customer
Frames and reinforcements can be designed and calculated on request, provided that we know the temperature, supports and differential pressure
Specification of the Wedge Wire Screens Column Covers
---
Slot size: 0.10, 0.15, 0.2, 0.25, 0.30mm, up to 3mm.
Diameter available: 1.5", 2", 3", 4", 6", 8", 10", 12", 14".
Open area: up to 60%.
Material: low carbon, low carbon galvanized steel (LCG) steel treated with plastic. spraying, stainless steel (304).
Lengths up to 6 meters.
Diameter: ranging from 25 to 2000mm.
End connection: plain beveled ends for butt welding or threaded.

Production And Sales of Wedge Wire Screens Column Covers
---