Wedge Wire Screen Metal Mesh Strainer Nozzle around the plate water cap for chemical industry is made up of stainles steel or Hastelloy C wedge wire screen. It use in the water softening treatment equipment, replace Polypropylene(PP) filter.

Wedge Wire Screen Metal Mesh Strainer Nozzle is a slot tube. Nozzles are closed on one side and have a threaded fitting on the other. The flow is always out to in. Standard nozzles are 50 mm in diameter, all having a flow-out-to-in (FOTI) filtration.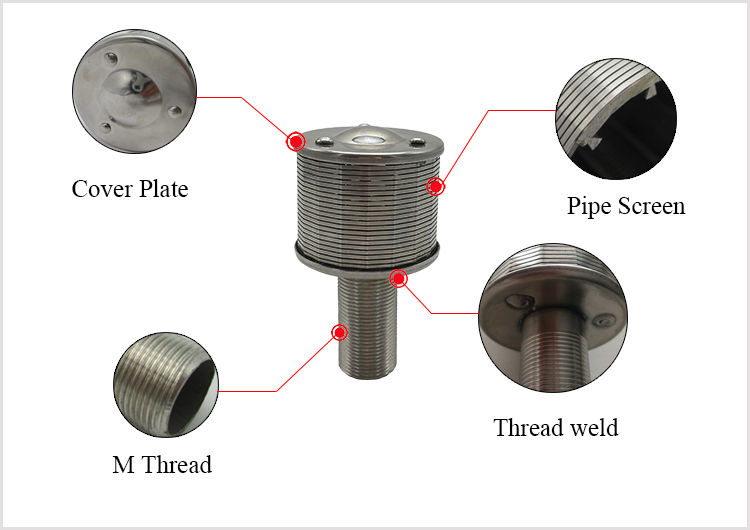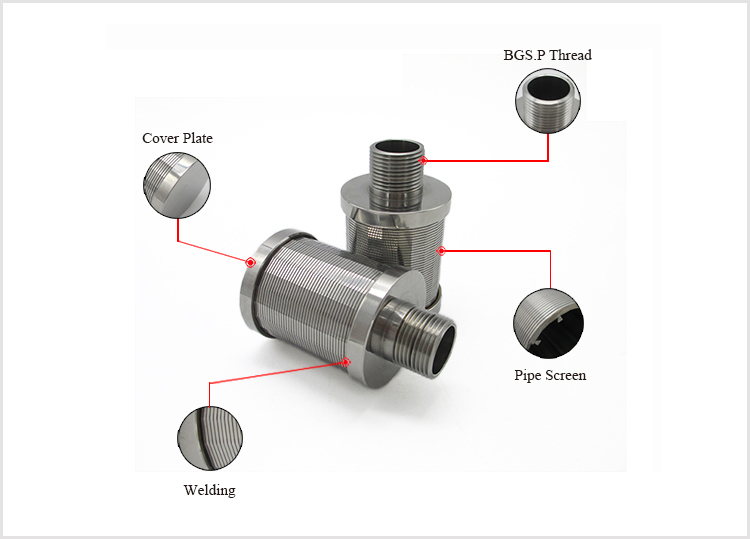 Advantages of Wedge Wire Screen Metal Mesh Strainer Nozzle
1) Type 316L stainless steel construction.
2) Continuous slot design provide large circulation area
3) Standard nozzle are 2in/51mm diameter and can be attached to the plate either with threaded end fittings or "L" blots.
4) Standard slot opening is typically range between 0.006"(0.15mm), and 0.020in./0.50mm wide suitable for 40 to 50 mesh size media, Other slot sizes are also available.
5) Wedge wire screen is highly resistant to plugging.
6) Choice of either 3/4" NPT or 1" NPT fittings are available from stock. Other styles, such as tee-bolt mountings, and drop tubes are readily available.
7) Unaffected by temperature, corrosion resistant, aging resistant, long life span, easy change, saftey and enviormental friendly.
Application of Wedge Wire Screen Metal Mesh Strainer Nozzle
The wedge wire screen filter nozzle can be fixed on the filtering equipment for the filteration of water petrol resin and other medium. Also it can be used in the water treatment, water softhening, conversion of sea water into fresh water, the filter of food chemistry.
Small systems may be built moduarly from off-the-shelf components requiring minimal customization.