Wedge wire run down screen systems range of Screentex run down screens offer a high capacity, cost effective, highly efficient method of solids/liquids separation utilising stainless steel wedge wire as the screening medium.
Features and Benefits of wedge wire run down screens
1. High quality, robust structure by stainless steel for heavy duty task
2. Variable rotation speed to control the concentration of the thickened sludge
3. Double drums are available for large volume and continuous operation
4. Low power consumption; Low polymer consumption
5. Supplied complete with control panel and washing pump (Option)
Application of wedge wire run down screens
Trommel drum screen can be used in food processing, waste water filtration, pulp and paper as well as mineral processing applications. Wedge wire or profile screen half cylinders can be added to an auger or screw press to separate solids from liquids in food, waste water, minerals and industrial grit/chips from coolant.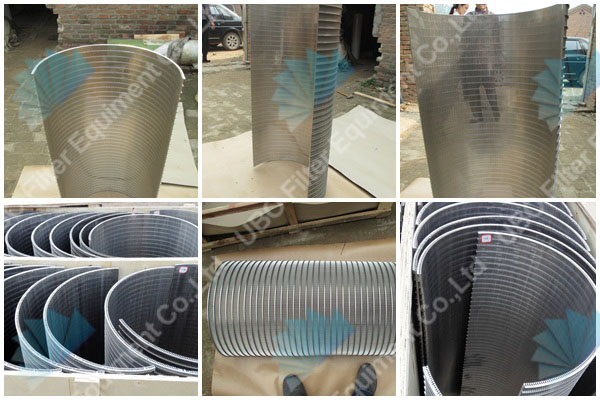 Ubo Filter Co.,Ltd is specialized in producing and distributing Mine sieving mesh,Water well screen,Well screen,Oil well screen,Wedge wire screen,Slot tube,V shaped wire welded screens,Spiral screen tube,Wire-wrap screen pipe,Mine screen mesh,Screen cylinders,Vibrating sieve screen plate.
Welcome to contact us for more information and cooperation.0086-0311-83289301