V wire wrap oil well screen have flat type, cylinder type, slope type and basket type. So V-wire wrap oil well screen is called as flat welded screen panel, cylinder wedge screen and sieve bend screen. According to the weaving type, they are also called woven wedge wire and welded wedge wire such as crimped wedge wire. welded wedge screen panels.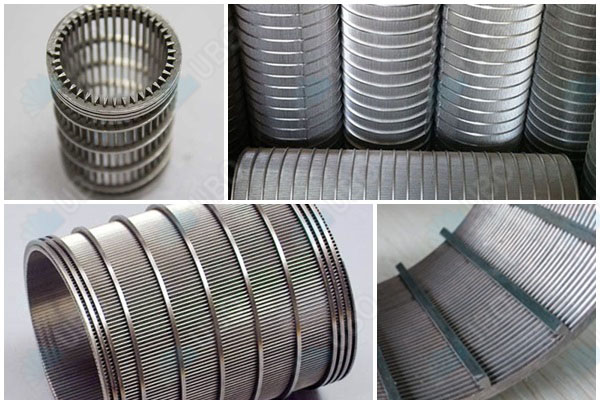 UBO can provide you with a wedge wire screen which designed by your own specifications manufactured from either grade 304 stainless steel or grade 316 stainless steel. Length , width , shape and spacing of profile wire are made to meet your special application requirements.
Application for V-wire wrap oil well screen:
Wedge wire screen have a lot of applications like using in oil , gas , chemical , food or beverage , mining , waste water management or coal separation .
Advantages for V-wire wrap oil well screen:
Wedge Wire Screen has a continuous slot opening which significantly increases the available open area , thus providing greater access to the water bearing zone(the aquifer)
Slot size: 0.10, 0.15, 0.20, 0.25, 0.30,....., 3.00 also achieved upon request.
Slot Width Tolerance
Slot width shouldn't exceed 0.02mm and shouldn't less than 0.01mm compare to standard size when slot width is below 0.2mm
Slot width should be controlled within ± 0.02mm compare to standard size if slat width is bigger than 0.25mm
Plating
Hard plating the wedge bar surface, plating thickness is 0.20-0.30mm. surface hardness >HRC : 60-66 (HV700-900)Product structure : wedge wire screen and stainless steel pipe
Surface treatment: polishing
Use for: oil well, water well, geothermal well, sewage and industrial wastewater disposal plants, food equipment, liquids filtration, cleaning treatment