Screen Nozzles are constructed of North American made triangle or v shape wedge wire wrapped on triangle, v shape, tear drop or round support rods to form a tubular screen. The wrap wedgewire can be inverted or standard wrapped on the support rods. This can be welded to nipples, couplings, pipe, or flanges. The fabricated and welded construction make for durable quality vessel internals and media retention products.
The customer can choose the style of nipple, coupling, pipe, or flange welded on to the wedge wire or wedgewire assembly. Material choice is from stainless steels 304, 304L, 316, 316L, Hastelloy, C276 C20, B2, B3, Titanium, or PVC. Materials kept in stock by Federal Screen Products include 304, 304L, 316, 316L, Hastelloy, C276 C20, B2, B3, Titanium, Stainless Steel or PVC and most are American made.
Advantage of V shap water filter nozzle
High strength;
Good resistance to abrasion and corrosion;
High rigidity;
Good in filtration and fluidity;
Flat panel surface;
Fairly well precision and roundness;
Long work time.
Easy to clean and back wash;
Uniform gap.
Use of V shap water filter nozzle
The wedge wire screen nozzle/sand filter nozzle with thread coupling can be fixed on the filtering equipment for the filteration of water petrol resin and other medium. Also it can be used in the water treatment, water softhening, conversion of sea water into fresh water, the filter of food chemistry.

Small systems may be built moduarly from off-the-shelf components requiring minimal customization.

UBO Products manufactures quality, Canadian wedge wire products made in North America, and enjoys doing business globally. For opportunities as a sales rep please see our Rep Inquiry page.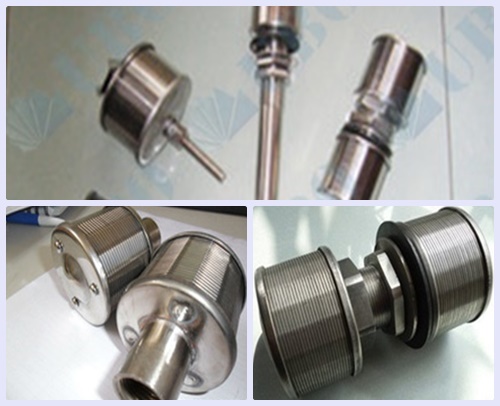 Ubo Filter Co.,Ltd is specialized in producing and distributing Mine sieving mesh,Water well screen,Well screen,Oil well screen,Wedge wire screen,Slot tube,V shaped wire welded screens,Spiral screen tube,Wire-wrap screen pipe,Mine screen mesh,Screen cylinders,Vibrating sieve screen plate.
Welcome to contact us for more information and cooperation.0086-0311-83289301
Outer diameter: min 30mm.
Wedge wire screen length: 30-100mm
Screw thread: Male/Female
Used for bottom strainer, 20 pcs of small filter nozzles attached to plate steel.Flow capacity of one pieces of filter nozzle could

handle 3 m3/hour. Up to this flow capacity, almost no pressure loss happened.But to handle higher flow capacity,

the pressure loss of each nozzle will be increasing accordingly. This fillter nozzle type is the cheapest sellection for filter media retention.
| | | | | | |
| --- | --- | --- | --- | --- | --- |
| D | L | L1 | Slot Size | d | Flow Area mm2 |
| 45 | 98 | 34 | 0.2-0.25 | M20 | 380-493 |
| 45 | 100 | 44 | 0.2-0.25 | M24 | 551-690 |
| 53 | 100 | 34 | 0.2-0.25 | M24 | 453-597 |
| 53 | 100 | 44 | 0.2-0.25 | M27 | 680-710 |
| 53 | 105 | 50 | 0.2-0.25 | M32 | 800-920 |
| 57 | 115 | 34 | 0.2-0.25 | M30 | 560-670 |
| 57 | 120 | 55 | 0.2-0.25 | M32 | 780-905 |
| 60 | 120 | 55 | 0.2-0.25 | G1" | 905-1100 |
| 82 | 130 | 50 | 0.2-0.25 | M33 | 1170-1280 |
| 108 | 200 | 100 | 0.2-0.25 | G2" | 3050-4600 |