SS316 Wedge Wire Centrifuge Screen have a robust structure and large open area, as well as accurate slot dimension. At the same time, wedge wire screens pipe have many advantages such as heat-resisting, anti-corrosive, good machine capability,long service life, safety and reliability and so on. It can be used in many kinds of medium filtering.
Usages of SS316 Wedge Wire Centrifuge Screen
Wedge Wire Cylinders are used as rotary screens, collectors such as screen laterals and nozzles, resin traps, in-line strainers, water intake screens, well screens, as well as many other applications involving liquid / solids separation.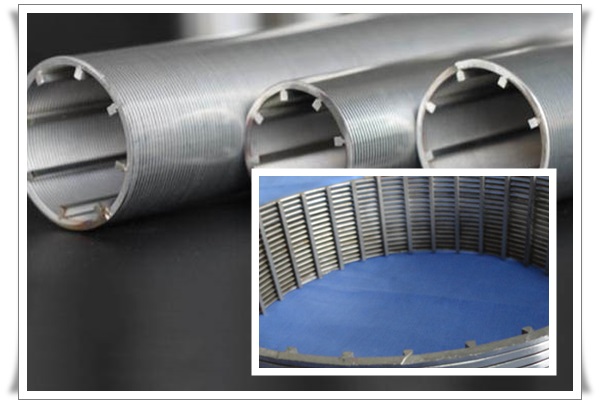 Advantage of SS316 Wedge Wire Centrifuge Screen
1) Non-clogging construction: The V-shape section plane of wedge wire screens (Wedge Wire type screens) creates the continuous slot, which can avoid blockage and make sure of the unimpeded water.
2) Large Filtering Area: The consecutive slot of wedge wire screens have wider open area, and it can reduce the speed of the water entering to avoid the sand entering the screen under the great pressure, so it can control sand better, which can increase the water yield and prolong service time of the well.
3) Long service life Wire and support rods are all-welded, which makes wedge wire screens more robust and longer life.
4) Excellent construction strength: The longitudinal support rods and the continuous slot make the wedge wire screens(profile wire screens) have more excellent pressure-resistant performance.
5) Specifications and end connections of wedge wire screens can me fabricated according to customers' requirements.
Application of SS316 Wedge Wire Centrifuge Screen
Centrifuge screens are widely used in petrochemical, refining, water supply system, dirty water treament, hydraulic system, coal mining, and architecture industry.

With stainelss steel material and special welded structure, it can be easy cleaning by mechanical scraping or back flushing, that's why it is so popular among these industries.