wedge v wire screen plate can be constructed using rectangular support rods or round support rods. They are the most widely used type of wedge wire screens mainly in the mineral processing both for stationery as well as vibratory decks.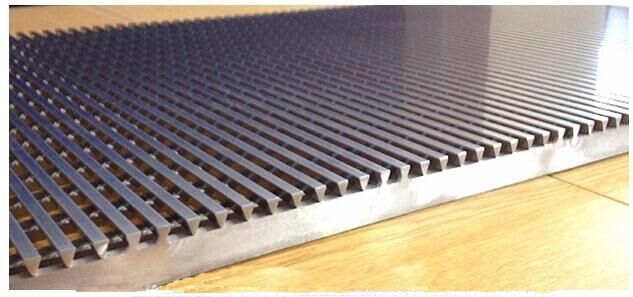 Features for Non Slip Walkway:
Mine screen meshes are new products in the line of wire mesh. They have the characters of easy leakage, corrosion resistant, abrasion resistant. It is strong to be acidproof, alkali resisting, bear high temperature, pulling force etc.
Applications for Non Slip Walkway:
Widely uses in mine, coal, oil, fertilizer, grain, salt, and environmental protection industries.
For filtering of liquid, the powder material. On petroleum, chemical industry, metallurgy, mine, medicine purifies, the drilling mud purifies the equipment in particular the important fitting
Advantages for Non Slip Walkway:
1) Better filter function. The V-shape section plane of water well screens(Johnson screens) creates the continuous slot, which can avoid blockage and make sure of the unimpeded water.
2) Prolong life of well. The consecutive slot of water well screens(Johnson screens) have wider open area, and it can reduce the speed of the water entering to avoid the sand entering the screen under the great pressure, so it can control sand better, which can increase the water yield and prolong service time of the well.
3) Long service life. Wire and support rods are all-welded, which makes water well screens(Johnson screens) more robust and longer life.
4) High pressure-resistant. The longitudinal support rods and the continuous slot make the water well screens(Johnson screens) have more excellent pressure-resistant performance.
5) Customized. Specifications and end connections of water well screens(Johnson type screens) can be fabricated according to customers' requirements.