The stainless steel wire wrap screen can be manufactured with a variety of rectangular or round support rods. The wire width and relief angle is determined by weight per square foot and efficiency requirements. This screen decking magnifies vibration with drum-tight tension and withstands the violent vibrating action. These industrial profile screens are also used in fluid bed dryers, coolers and much more.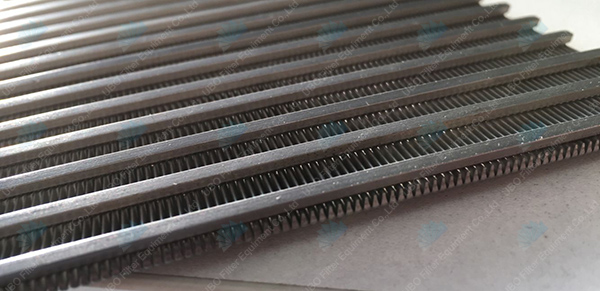 Usages for Mining Screen:
It can use with the deep well pump, dive the water pump, also may use in the water-treating equipment, the environmental protection, the sea water transforms into the industrial water and life use water desalination treatment, running water treatment, water softening treatment, the petroleum industry: The petroleum product terminal filters and the chemical acid, the alkali liquid filters, the ethyl alcohol and so on the organic solution recycling filters.


Advantages for Mining Screen:
-- A continuous slot opening which significantly increases the available open area, thus providing a greater access to the water bearing zone.

-- A 'V' shaped wedge wire which avoids clogging and ensures uninterrupted flow.
-- A uniform and efficient well development due to the continuous slot opening.
-- Offering great strength. precision, long service life.