Fish protection screens system design utilizes low velocity flow(typically < 1/2 fps) through the wedge wire screen surface which minimizes impingement and danger to aquatic life.
Profile wire fish screens prevent entrainment, injury, or death of the targeted aquatic species by physically precluding fish from entering a water intake.
Wedge wire tubes are made during simultaneous winding of specially profiled working wires on a spiral and welding them to carrying wires placed along the tube. This technology allows the production of wedge wire screens when very high gap precision and screen resistance are required. Due to using the newest welding technology we can obtain various distances between carrying wires, very accurate and repeatable gap and therefore produce screens according to customer's particular requirements.
Applications of Stainless steel 304 fish diversion screen
Wedge wire screen is the widely using screen for filtration and separation in liquid/gas, mining, food, water wasting, and so on.
Advantages of Stainless steel 304 fish diversion screen
1. Production process continuity: V-shaped profile wires creating slots which enlarge inwardly and therefore avoid clogging and minimize downtime.
2. Low maintenance costs: Separation at the screen surface which can easily cleaned by scraping or back washing.
3. Maximum process output: Precise and continuous slot openings resulting in accurate separation without loss off media.
4. Low operational costs: Large open area with an effective flow, high yield and a low pressure drop (dP)
5. Long live: Welded at each intersection creating a strong and durable screen.
6. Reduced installation costs: supporting constructions eliminating costly support media and enabling a maximum flexibility in the design of components.
7. Chemical and thermal resistant: A variety of corrosion resistant stainless steel materials and many exotic alloys suitable for high temperatures and pressures.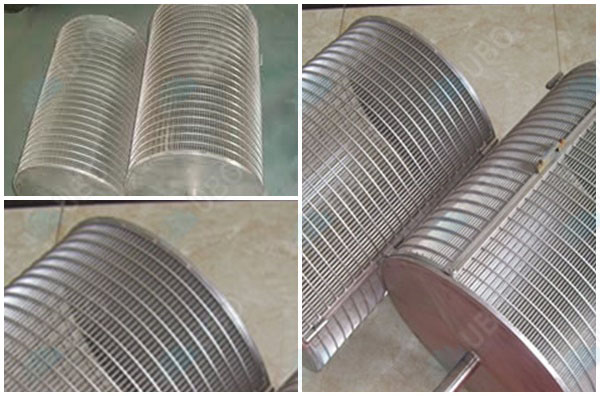 Announcement:
If you can envision it,We can supply it. TEL:0086-0311-83289301 E-mail:sales@ubooem.com
Ubo will do everything possible to provide exact and full product information based on metal mesh for your information.
In order to give customer a clear image of the product,Ubo has taken some pictures, customer can dowmload for reference but using our picture for business is forbidden.
Due to technique and other factors,product image might be slight different to the products itself,in case everything will follow the products.
Ubo appreciate any suggestion on our product information or picture or anything else.
Fish protection screens construction provides high strength and durability. Typically, surface water intake screens are designed to withstand a differentail pressure of 10 ft of water across the screen.
Materials:SS 304,316,316L, Stainless steel and carbon steel.
Usage: Liquid Filter
Type: Filter Cylinder
Hole Shape: Square
Filter Rating: more than 90%
Thickness: as per customer's requirement
Length: max:6m
Width: as per customer's requirement