The advanced wire wrapped screen technology provides superior weld strength and accurate slot openings. The accurate V-shaped wires provide free flow and optimal sand control.
A large number of support rods increases tensile strength and achieves rounder and stronger screens.
The Cylindrical Stainless Steel is fully pickled and passivated for maximum corrosion resistance.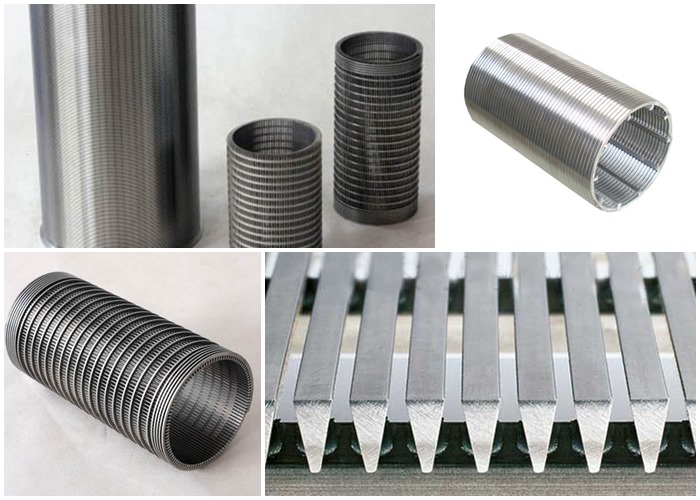 Stainless steel Wedge Wire water well screen pipe is used throughout the world for water, oil, and gas wells, and for environmental well completions. It is the dominant screen type used in the water well industry.
When compared to conventional slotted pipe, Water Well Screens have superior open area due to their continuous slot openings. The benefits of which will:

-- Reduce energy consumption and increase water flow.
-- Reduce erosion of entry surfaces and increase well life.
-- Allow a uniform and efficient well development.
-- Reduce significantly potential pump damage and subsequent maintenance costs.
1) They consist of V-shape or wedge shape profile wire and the longitudinal support rods.
2) The consecutive slot have more open area, and it can reduce the speed of the water entering to avoid the sand entering the screen under the great pressure, so it can filter sand better.


3) Each intersecting point of these wires is fusion welded, so it has sturdy construction and good mechanical property.
1) Materials: stainless steel and low carbon steel, such as 304 302 304L 316 316L Q235, and they can be made according to the customers requirement.
2) Diameter:33-600mm (1-20inch)
3) Slot:0.05,0.1,0.2,0.5,0.75,1,1.5,2mm
4) Length:1-10m(5.8m for the 20ft container)
5) Standard: ISO, API
6) Connection: Welding, Thread (STC,LTC,BTC),Flange
7) Supply capacity:6800m/month contact: xxhdzg16 at live dot cn
8) First class technology, High quality, Competitive price, Fast delivery