150 psi units designed for full line pressure differential.
300 and 600 psi units designed for 300 psi differential.
May be designed to withstand collapse pressure with cone upstream.
Filtration area is greater than 400% of pipe area. Larger areas available.
Available in mild steel, 304 SS, 316 SS, and other alloys.
Pipe spool sections available.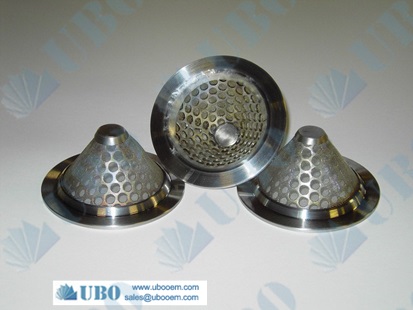 Raised Face Temporary Basket Strainers (Truncated Cone) are available in Carbon Steel, 304SS and 316SS perforated material.
Standard gauge of strainer material ranges between 11 to 22 depending on hole size. Special thickness are available.
Normally supplied with 1/8" diameter hole on 3/16" centers. Most size of perforations available. If mesh lined, please specify flow direction.
Heavy Machined Flange (with O-Ring) for seal between strainer basket and strainer housing.
14 ga. (0.078" thick) perforated sheet with ?" dia. holes, 3/8" staggered centers, 40% Open Area is our 'standard'. The Perforated Strainer Basket can be supplied with any size hole and perforated pattern required.
All SaniClean Basket Strainers are built to accept industry standard Filter Bags. Filter Bags are available in different materials, types of weaves, and ranging in retention rate from 1 – 1500 microns. (See page 10).
Shown with Filter Bag Hold Down Ring
Shown with Quick Release Handle.
For less critical applications heavy machined flange and removable Quick Release Handle Assembly are eliminated. Strainer baskets more cost effective. Replace heavy machined flange with an 11 ga (0.120" thick) OD x ID flange. Replace Quick Release Handle Assembly with a fixed handle. No O-Ring seal between strainer basket and the strainer housing.