Sintered Porous Metal Discs. Similar to a metallic sponge, Porous Sintered Metal Filters consist of highly uniform, interconnected networks of pores with tortuous paths that trap solid particles in gas or liquid flow streams. Excellent depth filters with superior mechanical strength. Stainless Steel Type 316L withstands temperatures up to 750°F (399°C) in oxidizing and 900°F (482°C) in reducing environments. These steam autoclavable filters can be cleaned by other methods, such as ultrasonic baths or reverse flow flushing. If your application requires even greater resistance to corrosion, temperature, wear, and vibration, other nickel-based alloys are available
The Sintered Porous Metal Discs consists of filter disc and strainer, mainly used to filter impurities from spinning dope, which exist in front side of spinneret of spindle, for synthetic fiber and artificial fiber in chemical fiber industries, in order to make sure unblock spinneret holes, improve spinning dope purity, and guarantee spinning quality.
The Sintered Porous Metal Discs is mainly used to filter biaxial oriented polyethylene terephthalate (BOPET) during production. These disc filters have excellent structure, high strength and lower resistance performance.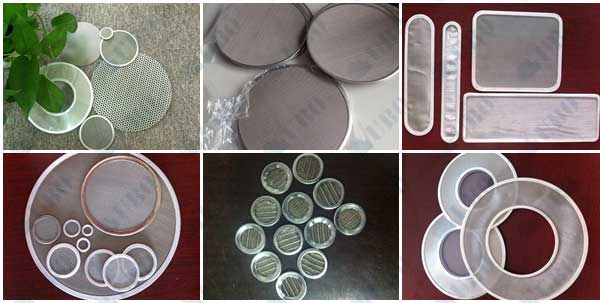 Characteristic of Sintered Porous Metal Discs
Filter Precision: 2~300um
Heat Resistance: -200°c ~~650°c continous filtration
Cleaning: back-washing, easy cleaning.
Specification:Dia:53mm,70mm,90mm,120mm,160mm,
mesh:50-400 per inch
Application of Sintered Porous Metal Discs
1. Decentralied &Cooling Material for Higher Ambient Temperature
2.Gas Distrbution Material
3.High Temperature Filtration Material
We can design special dimension according to customer demands
filter disc, filter sheet, multiple layer filter, filter cylinder, filter screen sheet, filter panel.
We make there filter used the material stainless steel ,or black wire cloth. there are plain weave,ducth will ,twill weave
the spec we make usualy as follow:
BWG 40 #X100mesh x Φ290mm
SWG 34 # X50mesh x Φ 99.5mm
SWG 34 #X50mesh x Φ55mm
BWG 22# X16mesh x Φ270mm,16mesh X Φ362MM
12X64mesh x Φ 362
dia head 80mesh x 362mm ,14x 100meshalso we make them according to customers request.