It is widely applied in the filtration of liquid and gas and it is applied in many industries, such as petrifaction, polyester, pharmaceutical, food, beverage and water treatment.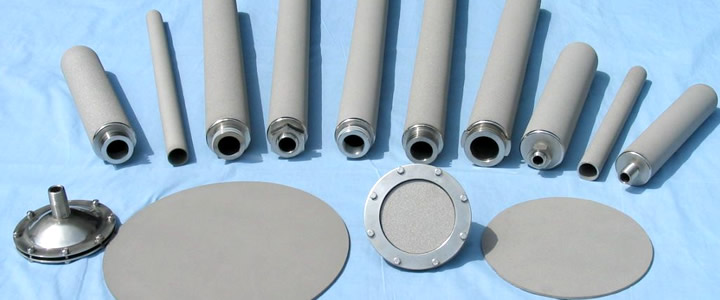 Moreover, the minimum diameter we can process can be up to 10mm and the filter rating can be up to 1micron.
In addition, as to the connection type and specification, we can produce it at customer's request
It is a porous metal panel which consists of multiple meshes and is sintered (diffusion-bonded) into one panel. It usually consists of protection mesh, filter mesh and support mesh and its combination is depending on needs or requirements.
■ Features
Weldability, Easily fabricated, Durability, Heat resistance, High pressure-resistance, Washability, Filtration and Separation, Uniform aperture size
■ Applications
Oil and Gas / Petrochemicals / Chemicals / Polymers / Synthetic fiber and film / Food and beverages / Milk and dairy products / Pharmaceuticals / Aerospace and environmental protection
■ Line of Products and services
Sintered wire mesh panels of SUS316L (SUS316),
Sintered wire mesh panels of such alloys as Hastelloy, Monel, Inconel , Alloy 20, etc.,
Sintered panels with combination of SUS meshes and SUS plates,
Various sizes and shapes of metal filters based on sintered wire meshes,
Heat treatment services such as annealing, brazing, baking, etc.
Ubo Filter Co.,Ltd could supply stainless steel filter elements,filter element, filter disc, sintered filter,filter strainer,polymeric filter,basket filter, wire mesh filter ,pleated filter
Standard sintered wire mesh panel, "Poremet''
"Poremet" is our standard products of sintered wire mesh panel which is well designed for multi purposes and usually consists of five (5) layers of meshes;
First layer: 100 mesh as protection,
Second layer: filter mesh which varies on requirement,
Third layer: 100 mesh again as protection,
Fourth layer: 12/64 mesh as support,
Fifth layer: 12/64 mesh again, but placed cross to the fourth layer.
The standard sizes of "Poremet" panels are,
500 mm x 1,000 mm,
1,000 mm x 1,000 mm,
1,200 mm x 1,200 mm
Material :Stainless steel wire, steel wire, iron wire, galvanized wire etc .
Round: From 2.50mm to 6.0mm
Slot size:0.10, 0.15, 0.20, 0.25, 0.30…… 6.00mm also achieved upon request.
Length: Lengths up to 6 meters.
Diameter: ranging from 25mm to 800mm.
Note: We can design and fabricate according to customer requirements
sinter filter dryer for Pharmaceutical
Mesh/Inch
Wire Diameter(mm)
Aperture (mm)
Filtration Area %
Mesh/Inch
Wire Diameter(mm)
Aperture
(mm)
Filtration Area%
5
1.00
4.08
64
100
0.11
0.144
32
6
0.90
3.33
62
120
0.09
0.122
33
8
0.70
2.47
61
150
0.065
0.104
38
10
0.50
0.04
64
200
0.05
0.077
37
12
0.50
1.62
59
200
0.04
0.084
47
14
0.50
0.50
52
250
0.04
0.062
37
16
0.35
1.24
61
250
0.035
0.067
43
18
0.28
1.31
64
250
0.03
0.072
50
20
0.35
0.92
52
300
0.04
0.045
28
24
0.35
0.71
45
300
0.03
0.055
42
28
0.35
0.56
38
325
0.035
0.043
30