Products Inc manufactures wedgewire screen and fabricated wedgewire screens for a demanding clientele who require high quality, compliance and responsive customer service. Water treatment professionals depend on our knowledge, reliability and quality to enhance their own designs and reputations in the water treatment field to retain treatment media. Our wedgewire nozzles, media retention nozzles, media inlet nozzles, media distributors, resin traps and media air sparge nozzles exemplify our commitment to our high standards, of quality, compliance, responsiveness, and customer service excellence.
For effective treatment processes our wedgewire media retension nozzles and our wedge wire inlet nozzles provide dependable, reliable and long service life. In common water treatment process for activated carbon absorption, removal of suspended solids, sand or gravel, ion exchange, removal of dissolved minerals salts, and screen services, wedgewire nozzles manufactured by Federal Screen Products Inc. are number one.
Standard nozzles are structurally strong due to their welded fabrication. Available in male or female connection configuration, these nozzles are ideal media retention devices used in flat bottom, false bottom, or reverse suspended round bottom tanks. Wedgewire screen nozzles maximize open areaflow while maintaining a low profile, compact ease of installation, and long screen service life. Get a Quote.

Characteristics of wedgewire nozzles
1. It has high mechanical strength, can bear large pressure drop.
2. It has equal slots for filtering, can form equally distributed filter cake, easy to clean for reuse.
3. The wedge type slot can improve backflushing and regeneration performance.
4. It has resistance to pressure, temperature, aging, corrosion, can be applied for different kinds of fluid.
Application of wedgewire nozzles
Widely used in water softening treatment equipment, replace Polypropylene ( PP ) filter;sand filters, carbon filters, ion exchange systems, carbon absorbers,media retention, backwash retention, resin retention and resin traps.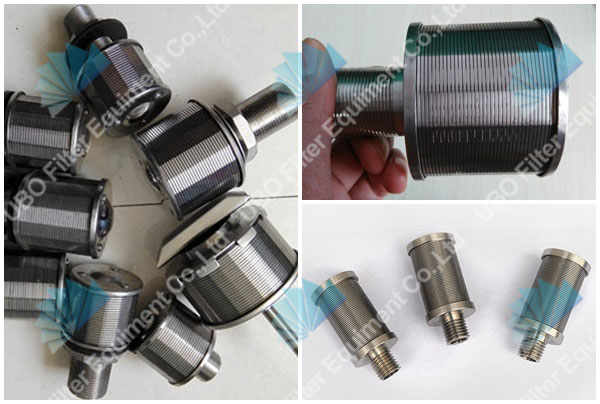 Ubo Filter Co.,Ltd is specialized in producing and distributing Mine sieving mesh,Water well screen,Well screen,Oil well screen,Wedge wire screen,Slot tube,V shaped wire welded screens,Spiral screen tube,Wire-wrap screen pipe,Mine screen mesh,Screen cylinders,Vibrating sieve screen plate.
Welcome to contact us for more information and cooperation.0086-0311-83289301