wedge wire screen for food beverage processing can be manufactured with very small slot size and yet still maintain the necessary open area to minimize friction head loss. Most continuous wire wrap screen is manufactured from stainless steel rather than carbon steel in order to avoid problems which often leads to accelerated corrosion.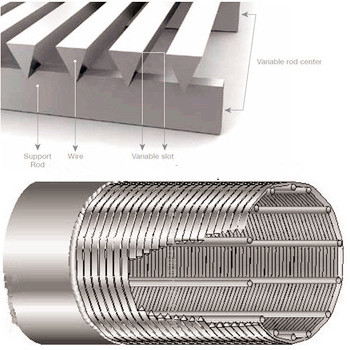 Features of wedge wire screen for food beverage processing
1. Screens with high open area are more suitable for the construction of high-quality water wells, oil wells and gas wells.
2. Low cost operation Screens with high open area shall favor groundwater infiltration. Abundant water shall reduce the water levels down, thus to save energy consumption.
3. Reduce the abrasion of the pump
Under the same condition, high open area can make the speed of groundwaters entering into the screen much slower than any other filtration apparatus, which will avoid sands entering into.
Application of wedge wire screen for food beverage processing
Application in deep well pump to dive the water pump, in the water-treating equipment, the environmental protection, the sea water transforms into the industrial water and life use water desalination treatment, running water treatment, water softening treatment; the petroleum industry, the petroleum product terminal filters; and the chemical acid, the alkali liquid filters, the ethyl alcohol and the organic solution recycling filters.
Advantage of wedge wire screen for food beverage processing
Profile Screen Laterals is made of V shaped stainless steel wire. It has flow area.water distribution uniformity, the high mechanical strength, temperature,pressure,anti aging, anti corrosive has been greatly enhanced. Stainless steel wire around the space under the index finger to the size of the design.

specification (wedge wire ):


specification (support rod):


Note: this is the normal wire, others could customized
Outside Diameter
Profile wire
Rod wire
Rod quantity
Slot size
Length
DN
Inch
mm
mm
mm
mm
mm
20
3/4
26.9
1.5*2
2*3
12
0.1~0.25
45~3000
25
1
33.7
1.5*2
2*3
14
0.1~0.25
45~3000
32
1~1/4
42.4
1.5*2
2*3
16
0.1~0.25
45~3000
40
1~1/2
48.3
1.5*2
2*3
16
0.1~0.25
45~3000
50
2
60.3
1.5*2
2*3
18
0.1~0.5
45~3000
65
2~2/2
76.1
1.5*2
2*3
20
0.1~0.5
45~3000
80
3
88.9
1.8*2.5
2*3
24
0.1~0.5
45~3000
100
4
114.3
1.8*2.5
2*3
30
0.5~2
1000~6000
125
5
139.7
2.3*2.7
2*3
36
0.5~2
1000~6000
150
6
168.3
2.3*2.7
3*5
44
0.5~2
1000~6000
200
8
219.1
3.3*4.5
3*4.7
56
0.5~2
1000~6000
250
10
273
3.3*4.5
4*6
66
0.5~2
1000~6000
300
12
323.9
3.3*4.7
4*6
72
0.5~2
1000~6000
350
14
355.6
3.7*5
4*6
80
0.5~2
1000~6000
400
16
406.4
1.5*2
2*3
94
0.1~2
1000~6000
450
18
457
2*3
4*5
112
0.1~2
500~400
500
20
508
2*3
4*5
124
0.1~2
500~400
550
22
559
2*3
4*5
140
0.1~2
500~400
600
24
610
2*3
4*5
156
0.1~2
500~400
Siot:0.1mm~2mm Tolerance:0.05