Description of wedge wire screen basket
---
wedge wire screen baskets provide a unique combination of the most important features required for maximum screening efficiency. The wedge wire screen baskets is custom designed to suit the specific requirements of the customer and to enable a relatively low cost and high performance solution for the screening application. The high open area of the Wedge Wire screen provides excellent capacity. Wedge Wire screen offers continuous slot openings that widen inwardly so that particles tend to pass through the screen.
wedge wire screen baskets Material: Low carbon galvanized wire(LCG), mild steel wire, stainless steel wire (ss 302, ss304, ss304L, ss316, ss316L, etc)
Diameter: 1-40inch (20-1000mm)
Slot: 0.05mm, 0.08mm, 0.10mm, 0.15mm, ......, 6mm
Length: up to 6meters
End Connection: welded rings(plain beveled ends for butt welding) or threaded male and female coupling(spiral)
Uses: The strainer is a kind of filtered water tubing with the perforation .it can use with the deep well pump, dive the water pump, also may use in the water-treating equipment, the environmental protection, the sea water transforms into the industrial water and life use water desalination treatment, running water treatment, water softening treatment, the petroleum industry: The petroleum product terminal filters and the chemical acid, the alkali liquid filters, the ethyl alcohol and so on the organic solution recycling filters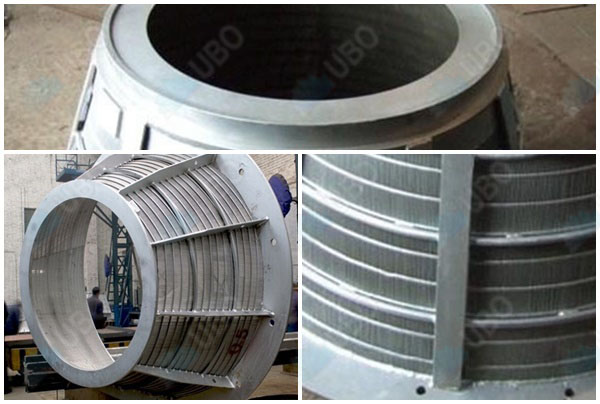 Specification of the wedge wire screen basket
---
Slot size(mm):0.008,0.010, 0.015, 0.02, 0.05, 0.1, 0.15, 0.2, 0.25, 0.3, 0.5..15mm or customized.

Material:Stainless steel (AISI 304, 316, 316L,202...), Low carbon galvanized steel (LCG), Low carbon steel galvanized zinc, duplex stainless steel 2205, Hadtelloy Alloy..
V-Slot Feature:
The Continuous slot screens are made of V-shape wire or wedge shape wire around an internal array of longitudinal support rods. Each joint point of these wire is fusion welded, the V or wedge shaped profile wire wraps around the support rods over the full length of the screen creating a continuous slot opening. Therefore the screen allows water or oil to enter the well freely in ample quantities while keeps the majority of sand and gravel out of the well at the same time.

Common flow styles of different screens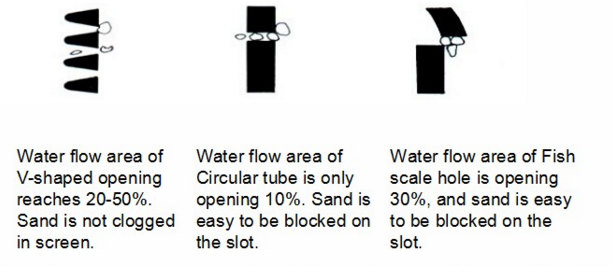 Wire and Support rod specification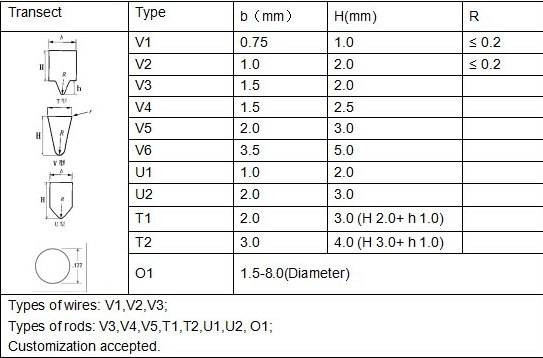 Production And Sales of wedge wire screen basket
---
Uses: The strainer is a kind of filtered water tubing with the perforation .it can use with the deep well pump, dive the water pump, also may use in the water-treating equipment, the environmental protection, the sea water transforms into the industrial water and life use water desalination treatment, running water treatment, water softening treatment, the petroleum industry: The petroleum product terminal filters and the chemical acid, the alkali liquid filters, the ethyl alcohol and so on the organic solution recycling filters