wedge construction wire can be constructed using rectangular support rods or round support rods. They are the most widely used type of wedge wire screen mainly in the mineral processing both for stationery as well as vibratory decks.

wedge construction wire can be designed to optimize the open area, strength and wear life for each application. The panels are either continuously or intermittently welded on the lower side of loop to provide complete rigidity to the panels thus becoming very effective in transmitting the vibrations without mechanical failures.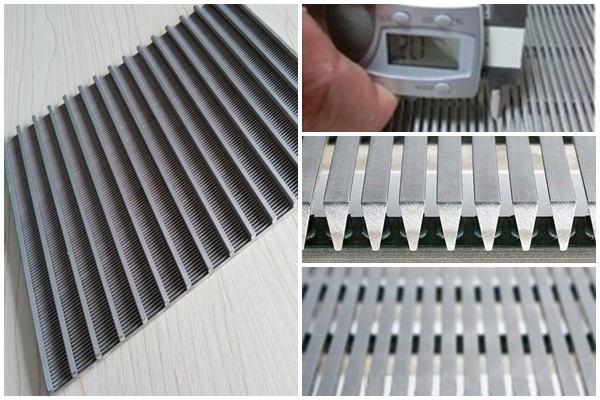 Advantages of wedge construction wire
A continuous slot opening which significantly increases the available open area, thus providing a greater access to the water bearing zone.
A 'V' shaped profile wire which avoids clogging and ensures uninterrupted flow.
A uniform and efficient well development due to the continuous slot opening.

Stainless steel v shap plate screen can be parts of deep well pumps or submersible pumps; can be used for water treatment equipment, environment protection, the sea water desalination, water softening treatment, oil and chemical processing; terminal filtration for petroleum products, filtration for chemical acid and soda liquid, for alcohol and other organic solvents recycle filtration.
Applications of wedge construction wire
-- Mineral processing;
-- Hatchery screens ;
-- Food processing ;
-- Surface water intake screens ;
-- Fish diversion screen panels ;
-- Vibrating or static screen decking ;
-- Flooring for malt kiln, germination, and grain drying.