Wedge Standard nozzles are designed with quality and performance in mind. Common applications include collectors and distributors in demineralizers, water softeners and in pressure and gravity sand filters.

Nozzles are economical and have a nonplugging design, high open area and are corrosion-resistant. Available in stainless steel, ABS or Kynar.

Nozzles are installed in a vessel orifice plate. Typical configuration has a stem projecting through each orifice and secured with a nut and washer. Screens are manufactured to suit customer requirements and are not restricted in size by length or diameter. Typical screens are fabricated with a blind cap on one end and washer fixed with a threaded stem on the other end..
Advantages of wedge Standard nozzles
Type 316L stainless steel construction.
Continuous slot design provides increased open area for better collection.
Standard slot opening is 0.007" (0.18 mm), suitable for 40 to 50 mesh size media. Other slot sizes are also available.
Wedge wire screen is highly resistant to plugging.
Choice of either ¾" NPT or 1" NPT fittings are available from stock. Other styles, such as tee-bolt mountings, and drop tubes are readily available.
Less expensive than other screen of equal efficiency.
Use of V shap water filter nozzle
The wedge wire screen nozzle/sand filter nozzle with thread coupling can be fixed on the filtering equipment for the filteration of water petrol resin and other medium. Also it can be used in the water treatment, water softhening, conversion of sea water into fresh water, the filter of food chemistry.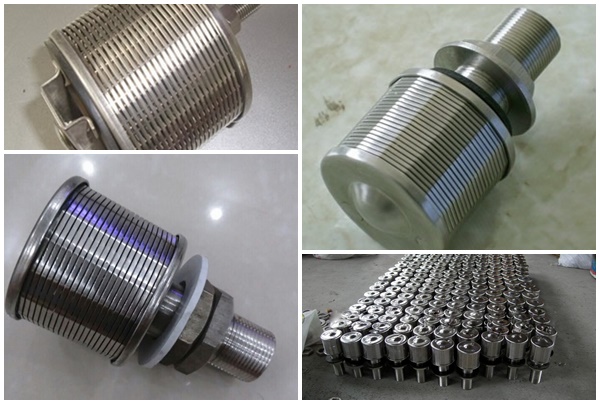 Ubo Filter Co.,Ltd is specialized in producing and distributing Mine sieving mesh,Water well screen,Well screen,Oil well screen,Wedge wire screen,Slot tube,V shaped wire welded screens,Spiral screen tube,Wire-wrap screen pipe,Mine screen mesh,Screen cylinders,Vibrating sieve screen plate.
Welcome to contact us for more information and cooperation.0086-0311-83289301