Hub Laterals can be designed for disc head vessels enabling the system to collect completely to the bottom of the vessel. Header laterals design is also available for flat bottom vessel distributor or collector applications All systems are designed for effective liquid or solid retention in a wide range of applications including ion exchangers, clay and sand filtration applications, carbon towers and power plants with water systems. Available as both Header Lateral and Hub lateral assemblies,UBO wedge wire screen laterals and pipe based laterals can be connected to headers or hubs by the following
methods
-standard NPT threaded connections
-flanged connections.
-welded as one assembly Laterals are available in all standard pipe and tube outside diameters.
Advantages of hub radial laterals
1. Screens with high open area are more suitable for the construction of high-quality water wells and gas wells.
2. Low cost operation.
3. Reduce the abrasion of the pump.
4. Extend the life span of wells, low-carbon, Galvanized or stainless steel construction
Application of hub radial laterals
The hub radial laterals is widely used in under draining applications for filtering and screening, additional, it is widely used in various machines for screening.
Cation exchanger.
Mixed bed exchanger.
Ion exchanger.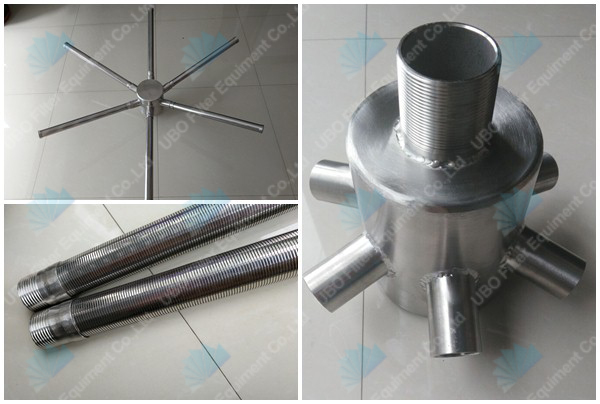 Ubo is specialized in producing and distributing wedge wire screen,lauter tun screens,sieve bend screen,sieve plate screen,water strainer&nozzle,screen nozzles,centrifuge screens and baskets,header-lateral.
Welcome to contact us for more information and cooperation.0086-0311-83289301.
Raw material : stainless steel 304,304L,316,316L.
Outer diameter: min 30mm.
Wedge wire screen length: 30-100mm
Screw thread: Male/Female

| | |
| --- | --- |
| Material | stainless steel, hastelloy steel or other alloy steel |
| Assemblies end type | threaded type or flange type |
| Slot size | 0.05 mm, 0.1 mm, 0.2 mm, 0.3 mm, 0.5 mm, 1 mm |
| Screen lateral diameter | 32 mm, 40 mm, 70 mm, 76 mm, 89 mm |
| Vertical hub diameter | 76 mm, 89 mm, 108 mm, 133 mm, 159 mm, 219 mm |