Wire-wrap screen pipe
It is the most commonly using screen for filtration and separation in liquid/gas, water wasting, mining, food and so on.
Then have flat type, cylinder type, basket type and slope type according to the screen type. Aslo called flat welded screen panel, cylinder wedge screen and sieve bend screen. They are aslo called woven wedge wire and welded wedge wire according to the weaving type, such as crimped wedge wire, welded wedge screen panels.
Wedge wire screens consist of profile wire and support rods with the materials of galvanized steel, low carbon steel and stainless steel 304, 316.
Wedge wire screen applications include using in chemical, oil, gas, food or beverage, waste water management, mining or coal separation.
Whatever your situation calls for, we can provide you with a Wedge Wire screen designed to your own specifications manufactured from either grade 304 stainless steel or grade 316 stainless steel. Length, width, shape and spacing of profile wire are made to meet your special application requirements.
Ubo Filter Co.,Ltd is specialized in producing and distributing Mine sieving mesh,Water well screen,Well screen,Oil well screen,Wedge wire screen,Slot tube,V shaped wire welded screens,Spiral screen tube,Wire-wrap screen pipe,Mine screen mesh,Screen cylinders,Vibrating sieve screen plate.
Welcome to contact us for more information and cooperation.0086-0311-83289301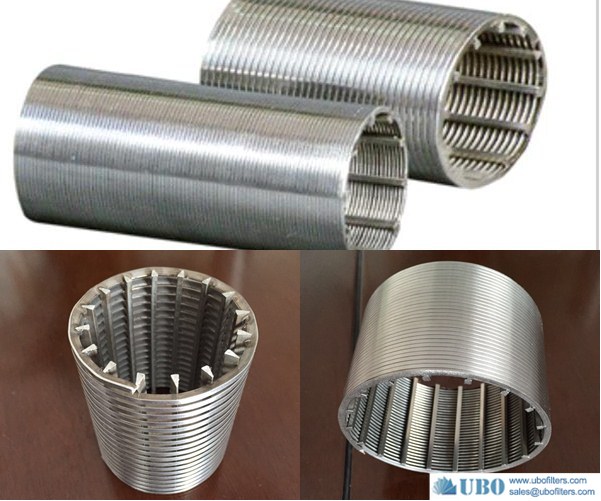 THE SPECIFICATION OF Wire-WRAP SCREEN PIPE:
Specification (wedge wire):

Width(mm): 1.50 1.80 2.30 3.00 3.30 3.70
Height(mm): 2.20 2.50 2.70 3.60 4.30 4.70 5.60 6.30 7.00

Specification (support rod):

Width(mm): 2.30 3.00 3.30 3.70
Height(mm): 2.70 3.60 4.70 5.60 6.30
Round: From 2.50mm to 6.0mm

Note: other specifications available as per request

Slot size:

0.10, 0.15, 0.20, 0.25, 0.30…… 6.00mm also achieved upon request.

Material:

galvanized low carton (LCG), stainless steel (304,316 etc.)

Length:

up to 6 meters

Diameter:

from 25mm to 1200mm.

Our Services:
1. Professtional
Export more than 70 countries and real professional manufacture.
2.Product Quality
The quality of products is the key of enterprise survival. Our Wire Mesh is ISO9001:2008 certificated manufacturer.
3. Reasonable Price
We'll exact control each producing process to reduce cost for our customers. After clients receive the quotation, we'll show you the rationality of the price and the difference between our products and other supplier's products.
4. Delivery Time
The customer's needs is delivering on time, rather than an excuse. We'll make a production plan before producing, and the sales will regularly inform the production schedule and process to the customer.
5. Communication
English is the basic and other languages can be understand. All customer's e-mail will be replied within 2 hours at working hours and must be replied within 12 hours at non-working hours.
6. Customized
Personalized, professional service: we can provide different programs according to customers' requirement, thus make customers choose the best and most approprite one.
Packing:
Wire-wrap screen pipe are available for both externally-fed (flow from outside to inside) and internally feed applications. Externally-fed cylinders can be manufactured without requiring a weld seam up to about 36" OD, larger diameters must be fabricated. Internally-fed cylinders are fabricated to customer's requirements.
1. End view of external-fed cylinder.
2. Internally-fed fabricated rotary screen cylinder.
3. Internally-fed rotary screen cylinder.
4. Reinforced externally-fed rotary screen.
5. Externally-fed rotary screen with flanges.
6. Internally-fed rotary screen with flights.