Wedge wire water strainer nozzle are used in liquid/solid or gas/solid separation (sand, catalyst, resins, zeolite etc). The design of each nozzle and the exact quantity will be proposed in order to obtain a perfect distribution or collection of flow.

Our filter nozzles are an excellent technical and economical solution in bringing together a fully welded, strong and highly corrosion resistant structure and with a non-plugging surface.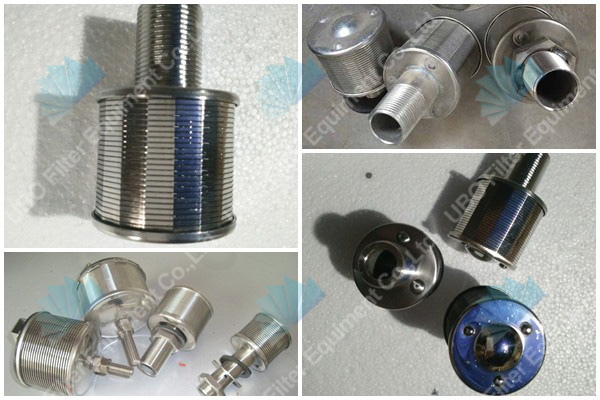 Usage of wedge wire water strainer nozzle
-- Catalytic processes
-- Ion exchange processes
-- Sand filters
-- Activated carbon processes
-- Filter nozzles design
Advantages of wedge wire water strainer nozzle
1) Strength: As fourth and fifth layers do support, with high mechanical strength and compressive strength.
2) Easy to clean: As a result of surface of the filter material, having means for cleaning characteristics, especially suitable for backwashing.
3) Easy processing: suitable for cutting, bending, stamping, drawing, welding and other processes.
4) High temperature: 480 °Ccan withstand high temperatures.
5) Corrosion resistance: As a result of SUS316L, 304 materials, the corrosion resistance.
6) Filtration: Filtration range of 1μm-200μm, has a reliable filter performance.
7) Stability: Because there are two layers to do to protect the screen, plus solid melting diffusion sintering process which make filters is not easily to deform.
Application of wedge wire water strainer nozzle
-- Used in food and beverage industry (milk powder, tea, coffee and etc).
-- Used in chemical and pharmaceutical industry (pharmaceutical products,plastic Recycling and Precision sieving of powders and etc.)
-- Used in petrochemical industry.
-- Used in water treatment system.
-- Used in aerospace industry