Wedge wire slotted tube are made in panel or cylinder type from V shaped profile wire, with an unique welding process, offering great strength, precision, long service life and a wide range of applications in the field of process, engineering such as sugar juice filtration, waste water treatment, crude oil and natural gas production and vessel internals solving problems of solid / liquid and solid / gas separation, filtration of oils, greases, paints, food products, water, fuels, liquid cooling agents, chemicals.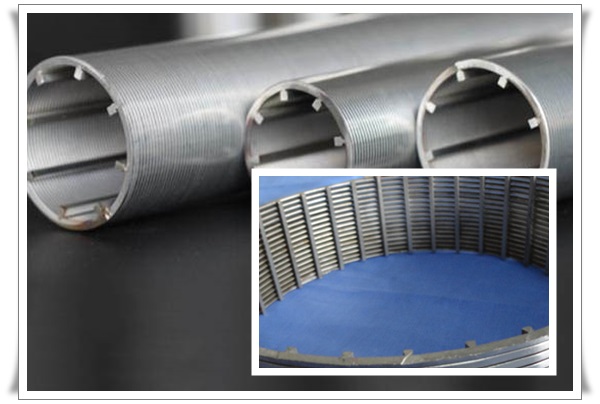 Applications for Wedge Wire Slotted Tube:
Cylinder screen is used in food processing, waste water filtration, pulp and paper as well as mineral processing applications. Wedge wire or profile screen half cylinders can be added to an auger or screw press to separate solids from liquids in food, waste water, minerals and industrial grit/chips from coolant.
Features for Wedge Wire Slotted Tube:
-- Self Supporting;
-- High Abrasion resistance;
-- Low pressure drop;
-- High resistance to Vibration.
Working Principle for Wedge Wire Slotted Tube:
Cylinder wedge wire screens are available for both externally-fed (flow from outside to inside) and internally feed applications. Externally-fed cylinders can be manufactured without requiring a weld seam up to about 36" OD, larger diameters must be fabricated. Internally-fed cylinders are fabricated to customer's requirements.

1) End view of external-fed cylinder.
2) Internally-fed fabricated rotary screen cylinder.
3) Internally-fed rotary screen cylinder.
4) Reinforced externally-fed rotary screen.
5) Externally-fed rotary screen with flanges.
6) Internally-fed rotary screen with flights.