Wedge wire parabolic screen filter, sometimes referred to as side hill,DSM screen,arc screen, etc. It is used for the removal of large insoluble material from an aqueous solution. Screens are used on process and waste water streams for particles that need to be removed to protect downstream systems. The wedge wire parabolic filter can also be used for product recovery; large solids separation and mixed settleable solids for both municipal and industrial applications.

The UBO series parabolic filter maximize solids removal in an easy to maintain unit. The screen is a barrier by which material larger than the gap or slot size may not pass, allowing the water to continue through.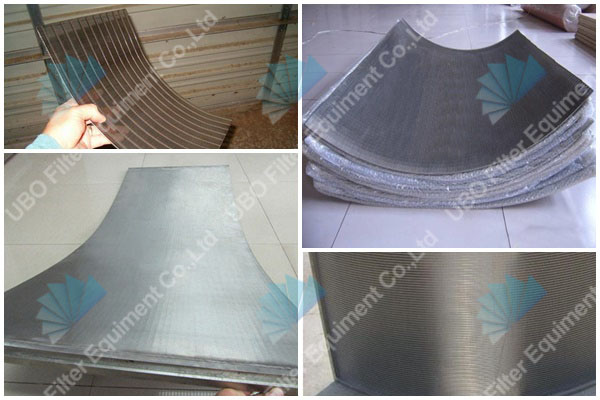 How to use wedge wire parabolic screen filter
The side hill screen operates by feeding the solids laden influent water to the headbox. The water then flows over a distribution weir onto the steeply angled screen surface. Solids ride the screen to it's base and fall off at the discharge lip into a waiting receptacle for disposal. The water passes directly through the screen to a collection pan.
Application of wedge wire parabolic screen filter
-- Bio-fuels
-- Brewing
-- Corn wet milling
-- Ethanol
-- Malting
-- Starch
-- Sugar