Imagine a filtration solution that not only ensures crystal-clear water but also optimizes your industrial processes. The Johnson Screen Water Filter Nozzle Strainer is meticulously crafted to deliver exceptional results in water treatment and filtration systems.
Its main structure: Johnson Screen Water Filter Nozzle Strainers are closed on one side and have a threaded fitting on the other. The screen nozzle with thread coupling can be fixed on the filtering equipment for the filtration of water petrol resin and other mediums. One rubber shim, one steel shim, and two thin nuts of the same material for a nozzle.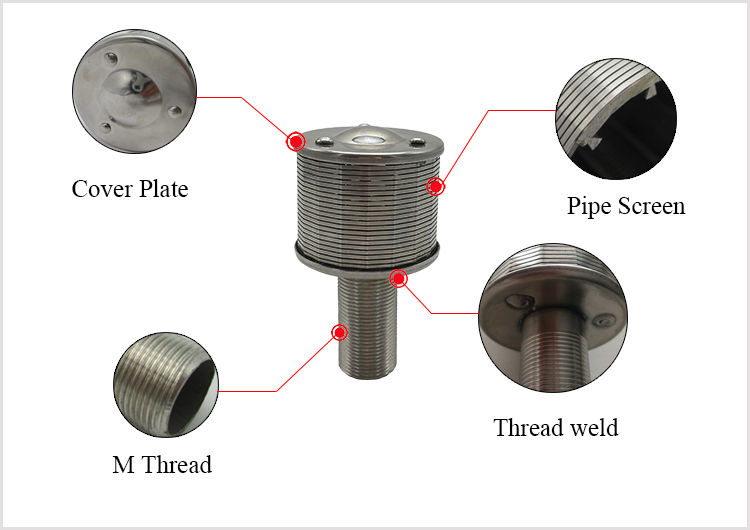 Johnson filters water nozzles for Industrial Water/wastewater Treatment: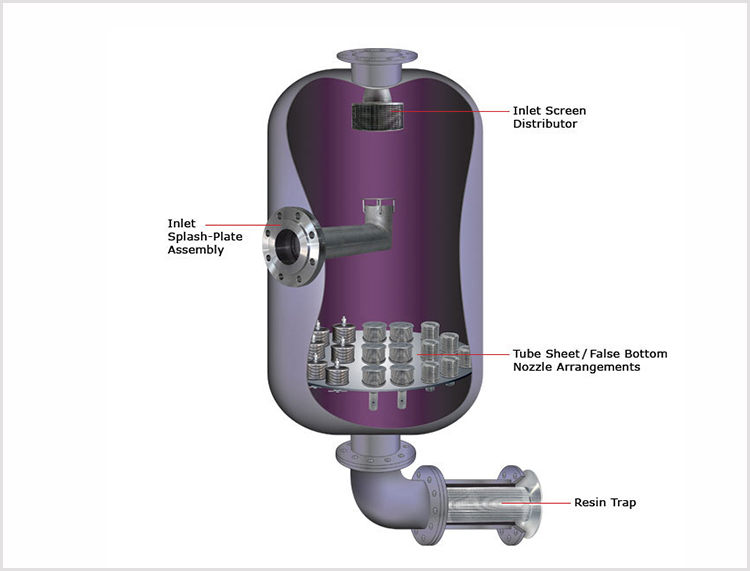 Cooling Towers: Achieve optimal heat exchange efficiency by preventing contaminants from clogging cooling tower systems. Our filter nozzle strainers maintain consistent water flow, extending equipment life.
Wastewater Treatment: Efficiently remove debris, sediments, and pollutants from wastewater streams, ensuring compliance with environmental regulations and protecting downstream equipment.
Desalination Plants: Ensure the longevity and performance of expensive desalination equipment by using our strainers to safeguard against particulate damage.
Food and Beverage Processing: Maintain stringent hygiene standards by incorporating our strainers into your processing lines. Keep unwanted particles out of your products and processes.
Chemical Manufacturing: Enhance the quality of chemical solutions by preventing contamination. Our strainers contribute to the production of high-purity chemicals for various industries.
The Benefilters of wedge wire water nozzle for industry water filtration: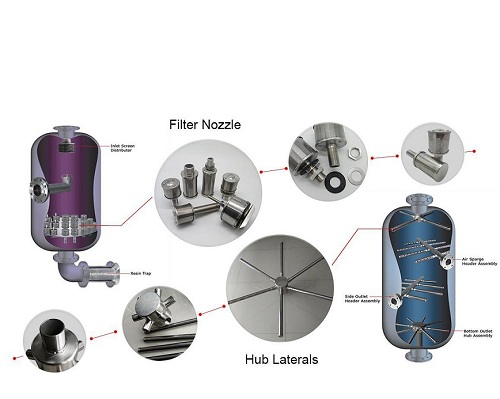 Precision Filtration: Our Johnson Screen Water Filter Nozzle Strainer offers unparalleled precision in capturing even the tiniest particles, leaving you with water that meets the highest quality standards.
Enhanced Flow: Experience a significant boost in flow rates without compromising on filtration quality. This nozzle strainer's innovative design minimizes clogging and pressure drop, maximizing efficiency.
Durability: Built to last, our wedge wire water filter nozzle strainers are constructed from high-quality materials, ensuring longevity even in harsh industrial environments.
Easy Maintenance: Minimize downtime with hassle-free maintenance. The detachable design of our nozzle strainers simplifies cleaning and replacement, ensuring your system stays operational.
Why Choose Our Johnson Type Wedge Wire Filter Nozzle Strainers
Proven Expertise: Backed by years of industry experience, [Your Company Name] has a proven track record of delivering reliable filtration solutions that exceed expectations.
Customization: We understand that every water treatment system is unique. Our filter nozzle strainers can be customized to fit your specific requirements, ensuring seamless integration.
Compliance and Efficiency: By investing in our strainers, you're investing in compliance, efficiency, and sustainability. Experience cost savings and peace of mind.
Technical Support: Our team of experts is here to assist you every step of the way, from selecting the right strainer to providing installation and maintenance guidance.