Stainiess steel strainer nozzle is composed of V-profile wire stainless steel which is spirally wrapped in certain equal slot. To maintain the slot size around inside and add extra strength are mounted. It has each cover for both ends of nozzle.Each wire and rod are made by spot welding. and fitting pipe is adjusted according to the thickness of set bottom plate. Profile Screen Nozzle is completed by welding fitting pipe to a cover of down end after setting screw according to the type of nut.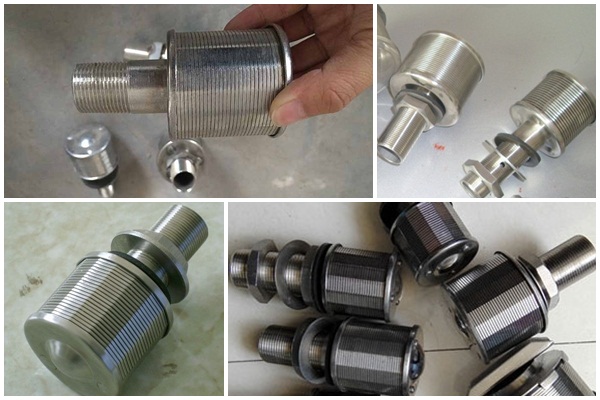 Applications for Stainless Steel V Wire Screen Nozzle for Filtration:
Wedge wire products are used for solid / liquid and solid / gas separation, sizing, dewatering and media retention in Oil & Gas wells, Water Wells, monitoring & soil sanitation, the (petro) chemical industry, food and process industry and architecture.
Advantages for

Stainless Steel V Wire Screen Nozzle for Filtration:
1) Type 316L stainless steel construction.
2) Continuous slot design provide large circulation area
3) Standard nozzle are 2in/51mm diameter and can be attached to the plate either with threaded end fittings or "L" blots.
4) Standard slot opening is typically range between 0.006"(0.15mm), and 0.020in./0.50mm wide suitable for 40 to 50 mesh size media, Other slot sizes are also available.
5) Wedge wire screen is highly resistant to plugging.
6) Choice of either 3/4" NPT or 1" NPT fittings are available from stock. Other styles, such as tee-bolt mountings, and drop tubes are readily available.
7) Unaffected by temperature, corrosion resistant, aging resistant, long life span, easy change, saftey and enviormental friendly.