UBO media inlet nozzles nozzles have distinct advantages in that they are economical, non- clogging and ideally suited as collectors and distributors. The most common standard nozzle is style "N" as shown. They are efficient and easily installed in false bottom installations with lateral systems. Standard "T" bolt, coupling and custom design connections are equally available. We will provide complete engineering assistance in the design and selection of nozzle internal systems.
Application of Media Inlet Nozzles
Widely used in water softening treatment equipment, replace Polypropylene ( PP ) filter;sand filters, carbon filters, ion exchange systems, carbon absorbers,media retention, backwash retention, resin retention and resin traps.
Advantages of Media Inlet Nozzles
1. Type 316L stainless steel construction.
2. Continuous slot design provide large circulation area
3. Standard nozzle are 2in/51mm diameter and can be attached to the plate either with threaded end fittings or "L" blots.
4. Standard slot opening is typically range between 0.006"(0.15mm), and 0.020in./0.50mm wide suitable for 40 to 50 mesh size media, Other slot sizes are also available.
5. Wedge wire screen is highly resistant to plugging.
6. Choice of either 3/4" NPT or 1" NPT fittings are available from stock. Other styles, such as tee-bolt mountings, and drop tubes are readily available.
7. Unaffected by temperature, corrosion resistant, aging resistant, long life span, easy change, saftey and enviormental friendly.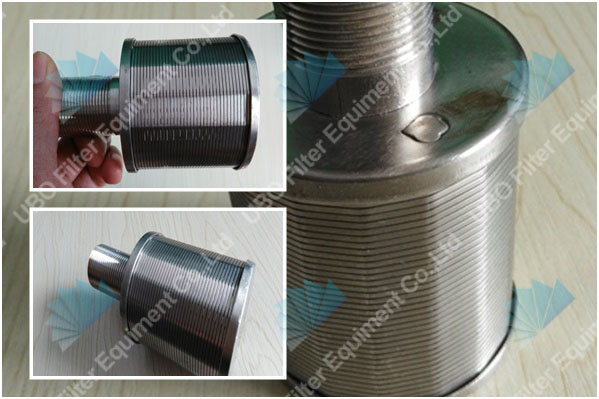 Ubo is specialized in producing and distributing wedge wire screen,lauter tun screens,sieve bend screen,sieve plate screen,water strainer&nozzle,screen nozzles,centrifuge screens and baskets,header-lateral.
Welcome to contact us for more information and cooperation.0086-0311-83289301.