The stainless steel looped wedge wire screen tube consist of V shape profile wire and the longitudinal support rods. Each intersecting point the V shape section plane can avoid blockage, and make sure of the unimpeded water. The consecutive slot have more open area, and it can reduce the speed of the water entering to these wires is fushion welded, so it has studry construction and good mechanical property. Avoid the sand entering the screen under the great pressure, so it can filter sand better. Meanwhile, the slot can change according to the real condition of the earth. if you are interested in our products, please contact us for accurate information.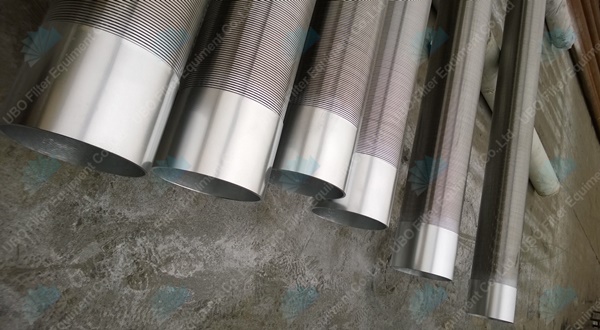 Application for HIGH PRECISION FILTER TUBE:
The rod can be round wire, triangular wire or trapezoid wire. The warp is triangular wire (V-shaped wire). Water well screens have a structure and high open area, as well as accurate slot dimension. At the same time, Wedge Wire Screen have heat-resisting, anti-corrosive, good machine capability, last long, safety and reliability and so on characteristics. Wedge Wire Screen can be used in many kinds of medium filtering.
Function and Characteristics for HIGH PRECISION FILTER TUBE:
in superior heat resistant pressure welded finish
made of wedge wire profiles connected to cross bars
with or without reinforcement (flanges, bottoms etc.)
outside diameters 23 to 305 mm
with conical slots starting from 0,010 mm (in steps of 0,01 mm)
radial or axial slot direction
working surface outside (FOTI) or inside (FITO)
slot performing wires in different cross sections
from 0,75 to 2,2 mm head width and 1,8 to 4,5 mm height
in stainless steel AISI 316 L (1.4435), other materials and designs on demand