Description of Tea strainer basket filter
---
Our stainless steel strainer is great for making a cup of tea at a time.
Just sit in your favorite tea cup and teapot, add tea leaves and pour hot water into the cup.
the stainless steel tea infuser wrapped with a colorful silicone band which helps to keep the edges cool for easy removal after brewing.
18/8 stainless steel construction keep even the smallest leaves in.
Once the tea is done steeping you can remove the strainer and enjoy your cup of tea!
Easy to use and simply rinse out the leaves and put it in the dishwasher after use.304, 304L, 316, 316L stainless steel wire and plate
Feature of Tea stra
iner basket filter
Tea strainer basket filter surface Corrosion resistant,heat resistant, chemical resistant, oil resistant, non-stick, Polished treatment, ensure surface no sharp edges and wires,Easily cleaning and longtime usage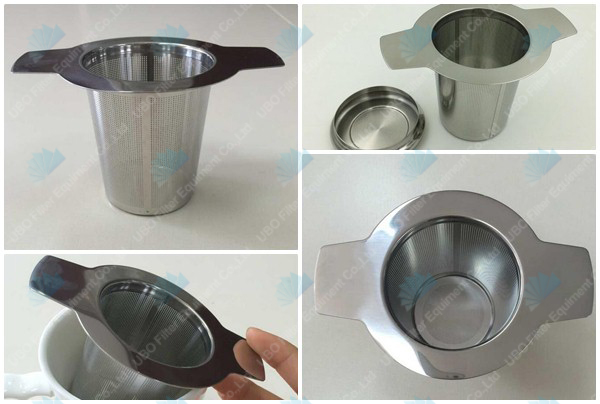 Specification of the Tea strainer basket filter
---
Tea strainer basket filterDiameter from 0.015mm to 4mm
Tea strainer basket filter Mesh: 1mesh, 2mesh, 3mesh, 4mesh, 5mesh, 10mesh, 12mesh, 14mesh, 16mesh, 18mesh, 20mesh, 30mesh, 40mesh, 50mesh, 60mesh, 80mesh, 100mesh, 120mesh, 150mesh, 165mesh, 180mesh, 200mesh, 250mesh, 270mesh, 300mesh, 325mesh, 400mesh, 500mesh, 635mesh, 7x40mesh to 325x2300mesh, 400x2800mesh etc

| | |
| --- | --- |
| Name: | Tea strainer basket filter |
| Item No: | WW-TF004- Tea Filter Strainer Infuser |
| Material: | stainless steel 18/8# |
| thickness: | 0.5mm |
| Logo: | Customerized logo also accepted |
| Size: | Top D:8.5cm,Bottom D:5.5cm,H:8.7cm(the height can be done as your requirement) |
Production And Sales of Tea strainer basket filter
---