Stainless Steel Perforated Tube can offer superior resistance to bending and crimping, making them an ideal choice over wire mesh filters in applications where rigidity and durability are desired.
Application for Stainless Steel Tube With Mesh Pattern:
The filter has been widely used in transfomer oil, turbine oil, hydraulic oil, aviation kerosene, petrolum, chemical, power plant, coal carbon, mining, pharmaceutical, food and engineering industries.
Characteristics for Stainless Steel Tube With Mesh Pattern:
1. Complex structure, high filtering precision
2. Large dirt holding capacity, long service life time
3. Good corrosion resistance and pressure resistance
4. Increased flow quantity per unit area
5. woven type stainless steel mesh, with homogeneous pore distribution, high strength, and easy to clean.
Weave Type:
Plain Weave: also called tabby weave, linen weave or taffeta weave, is the most basic type of weaves. In plain weave, the warp and weft are aligned so they form a simple criss-cross pattern. Each weft thread crosses the warp threads by going over one, then under the next, and so on. The next weft thread goes under the warp threads that its neighbor went over, and vice versa.
Plain Dutch Weave.
Twill Weave: In a twill weave, each weft or filling yarn floats across the warp yarns in a progression of interlaced to the right or left, forming a distinct diagonal line. This diagonal line is also known as a wale. A float is the portion of a yarn that crosses over two or more yarns from the opposite direction.
Plain Dutch Weave: similar with plain weave, just the weft and warp wire have different wire diameter and different mesh size.
Twill Dutch Weave: similar with twill weave, just the weft and warp wire have different wire diameter and different mesh size.
Reverse Dutch Weave: difference from standard Dutch weave lies in the thicker warp wires and less weft wires.
UBO Company:
ubo produce various grades of perforated tubes in 304L, 321, 310 and nickel alloys with a dimensional tolerance of +/- 0.015" over a 3 metre length. Perforated tube applications include dye spindles and dye beams, cold pad batch beams, filters and exhaust baffles. We offer a range of perforated tubes in bespoke length and diameter dimensions from a variety of proven materials which can be used for dyeing cotton or fabric within the textile industry, as well as other applications.
Woven wire media are generally available in a variety of weaves. Each has slightly varying retention characteristics even at the same rating. For example, the opening in a square weave is as the name implies. However, the opening in twilled weave can be more triangular in shape. This will have some effect on retention but the effect will be, for the most part, unmeasurable. When selecting woven wire media manufacturers experience will assist in determining the weave that displays the best strength, solids release and flow characteristics for each retention rating.
About product:
1>Perforated metal sheet open pattern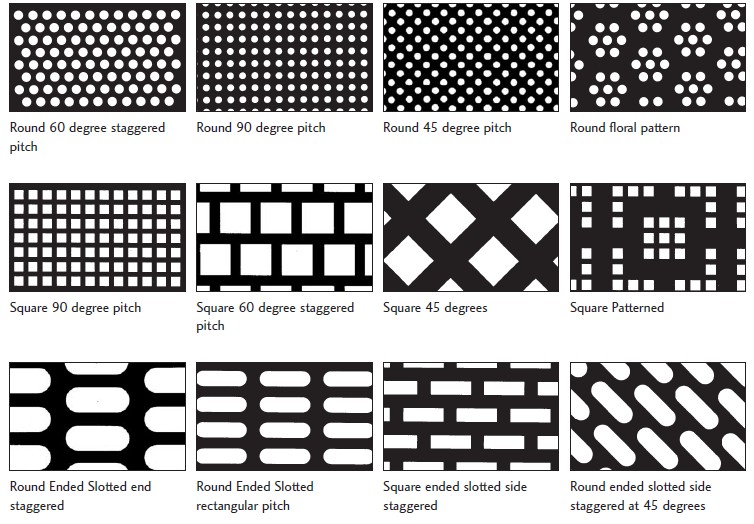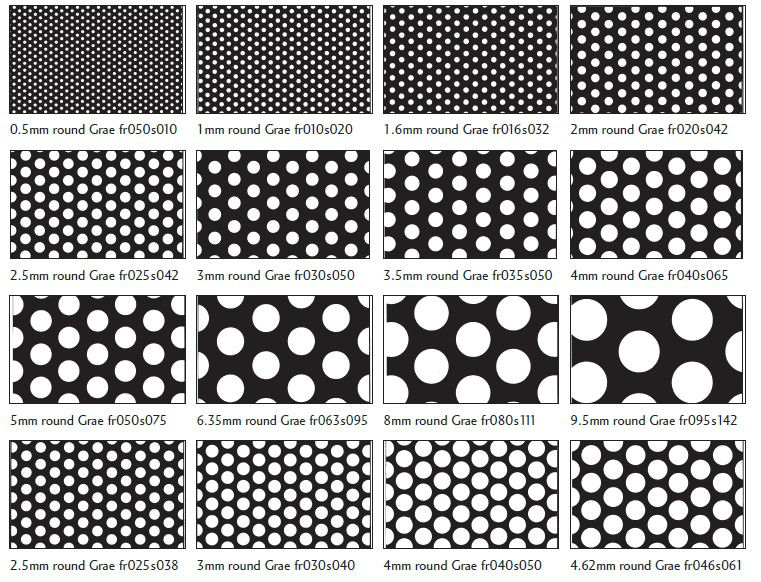 2>Perforated Metal Hole Shape

3>Perforated Metal Margins