Stainless steel cone strainers are made of stainless steel woven wire mesh and wire cloth. material is AISI 304, AISI 304L, AISI316 316L, etc. Pack filters and wire mesh discs are mainly used in pharmacy, chemicals, chemical fibers, et.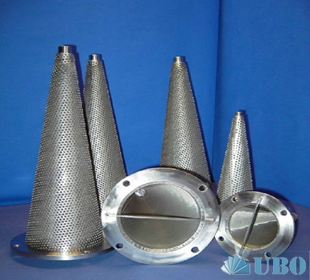 Material:
Woven wire mesh,expended metal,perforated metal,sintered mesh and so on with material of stainless steel,brass,aluminum,etc.
Filter rating:
Minimum filter rating:3micron
Any outline size and filtration rating available as the requirements of the customer.
Features of Stainless Steel Cone Strainer
Excellent stainless steel corrosion resistance,acidproof, alkali resistance and salt corrosion.With uniform welds and compression capability, crevice corrosion will not become bigger. There is no length limit,and generally,the intensity of it is higher than the straight seam filter frames.It can produce large diameter pipes with narrow blanks.You can also produce different pipes with blanks of the same width.
Applications of Stainless Steel Cone Strainer
Mesh filter cartridge is mainly used for the filtration of air,the medium cleaning and flow control of lubrication oil,hydraulic pressure and air pressure system.