Rotating Drum Screen Reliably Separate Greasy and Sticky Solids in sewage treatment plants
Wedge wire Rotating Drum Screen is proven high-capacity and fine filtration solutions a variety of industries and applications.
In sewage treatment plants, this wedge wire rotating drum screen is are used as a fine screen for pretreatment and primary treatment to machines. They are used with meat and poultry processors, fruit and vegetable processors, pulp and paper mills as fiber recovery, tanneries, textile mills, recycling plants to recover plastics from their water system, building material production factories as process water treatment.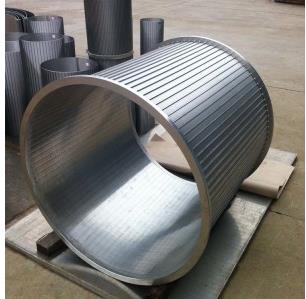 The rotary drum screen is a self-cleaning rotary drum screen that can be operated continuously and is used for filtering waters and liquids from different sources.
The Rotary Drum Screen is a reliable self-cleaning wedge wire screen for municipal wastewater operations. This screening technology performs particularly well in wastewater with high oil or grease loadings as well as scum applications that can blind other types of screens. It is used for fine screening primary sewage influent at the headworks as well as screening of clarifier scum.
ADVANTAGES OF THE ROTARY DRUM SCREEN
1. There is almost no risk of clogging or blockage thanks to the V-shaped wire that makes up the filter drum. This means the equipment's hydraulic capacity can be increased with a minimal pressure drop.
2. Customized to fit into existing infrastructure
Industrial effluents from:
Poultry and meat abattoirs.
Processing and precooked industries.
Laundry, textiles and tanning.
Sugar mills, breweries and wineries.
Chemicals and pharmaceuticals.
Cellulose and paper.
etc.
So, above the factory can use wedge wire Rotary Drum Screen to Separate Greasy and Sticky Solids.
NEED HELP?
Contact us and we will provide our expert advice on finding solutions for the treatment of water.
Tel/WhatsApp: 86-18032153916
Emails: sales@ubooem.com