The wedge wire sieve bend screen, also known as the wedge wire run down screen, wedge wire side hill screen, DSM screen, Parabolic screen, wedge wire curve screen and so on. The sever bend screen could be custom made and designed according to the application. They are usually used to separate solids from liquids. The curved screen of sieve bend provides greater capacity than flat wedge wire screen due to increased gravitaonal forces on material frowing against the curve.

Specification of welded wire screens for malt house and brewery floors

·Various Material could be choose, AISI304, AISI316L, AISI430, AIDI201 and so on.
·Any size could be custom made
·Slot could be also custom made, the minimum is 0.02mm.
·Every kind profile wires are available
·Various support rod could be used
·Custom made angle
·Could weld the frame as request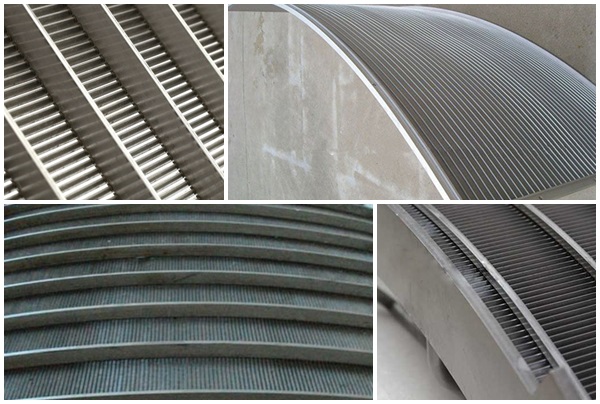 Usages of welded wire screens for malt house and brewery floors :
1.) Widely used in vairous kinds of medium filtering
2.) As the fitting using in the water-treating equipment;the environment protection; the sea water transforms into the industrial water and life use water desalination treatment; running water treatment; softening treatment;
3.) The petroleum industry: the petroleum product terminal filters and the chemical acid; the alkali liquid filters, the ethyl alcohol;
4.) The organic solution recycling filter
Characteristic of welded wire screens for malt house and brewery floors :
1.) Wedge wire screen style isn't easy to be locked
2.) Due to the different pressure between inside from outside,it could be very easily to clean the plugging material.
3.) We are eager for long-terms cooperative parters ,our factory promise the best quality to have a high filtering accuracy, high strengh and durability
4.) We have the most advanced equipments and the most professional workers , so totally could be as per customer's drawing to produce new styles .
Advantage of welded wire screens for malt house and brewery floors :
1 Excellent roundness
2 Very good slot width precision
3 High mechanical load capacity
4 No form closure connection that would allow vibration of the profiled bars
5 Automated welding process for high-precision manufacturing
6 Perfectly adjusted screen basket profiles
7 Available for all screens
8 Surface finishing as required