Stainless steel wedge wire distributer and collector fabricated with wedge wire are superior screens for retaining media in vessels of all types, i.e. ion exchangers, carbon towers, clay filters, sand filters, and numerous other liquid-solid retention applications.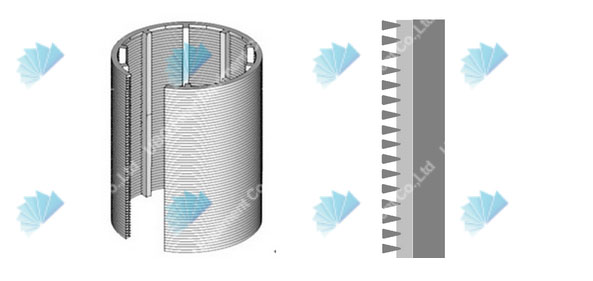 In comparison with wire mesh and perforated metal, wedge wire continuous slot screens have more open area, have very precise openings, are stronger and more durable, are virtually non-clogging and reduce media abrasion. Wire mesh and perforated pipe may be less expensive initially, but wedge wire screens offer easier installation and long-term operating and cost benefits.
Wedge wire screens have maximum design flexibility, can be constructed in a wide variety of shapes and sizes from a variety of corrosion resistant alloys such as type 304, 316, 316L, 321, and 410S stainless steels, as well as nickel alloys such as C-276. Any process or vessel requirements can be accommodated, such as vertical or horizontal vessels.
Advantages of stainless steel wedge wire distributer and collector for water treatment
The Wedge Wire Screen is composed of rod strips and V shaped wires through manufacturing on specialized welding machine. The rib strips and V shaped wires will be welded by resistance welding, has enough welding strength, equally slot gap, high corrosion resistance, large filter area, good permeability, simple structure.
Application of stainless steel wedge wire distributer and collector for water treatment
They are widely used for water, oil and gas wells in the world. As China chief manufacturer and exporter, we export good quality water well screen to many countries. Main products cover bridge slot screen, wire wrapped well screen, stainless steel Wedge Wire Screen, water well screen, wedge wire screen, sieve bend screen, Wedge Wire tube and sand control screen. In addition, we also offer perforated pipes and base pipes for well screen and Wedge Wire Screen.

Ubo is specialized in producing and distributing wedge wire screen,lauter tun screens,sieve bend screen,sieve plate screen,water strainer&nozzle,screen nozzles,centrifuge screens and baskets,header-lateral.
Welcome to contact us for more information and cooperation.0086-0311-83289301.