media air sparge nozzles
Our welded wedge wire screen nozzles are used effectively in a variety of water tratemest system.They are economical,easily installed and have several distinct design advantages: .Type 316L stainlesss steel construction . .Continuous slot design provides increased open aera for better collection .Standard slot opening is 0.007" (0.18 mm), suitable for 40 to 50 mesh size media. Other slot sizes are also available. .Wedge wire screen is highly resistant to plugging. .Choice of either ¾" NPT or 1" NPT fittings are available from stock. Other styles, such as tee-bolt mountings, and drop tubes are readily available. .Less expensive than other screen of equal efficiency. .Small systems may be built modularly from off-the-shelf components requiring minimal customization
Optima nozzles are manufactured and supplied to suit customer requirements.
The size and quantity of nozzles will vary from application to application and are typically used as a collector or distributor.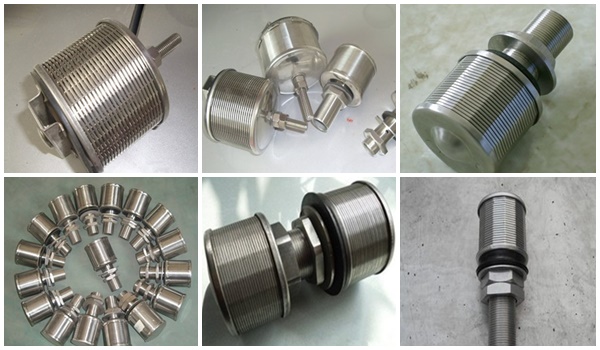 Ubo Filter Co.,Ltd is specialized in producing and distributing Mine sieving mesh,Water well screen,Well screen,Oil well screen,Wedge wire screen,Slot tube,V shaped wire welded screens,Spiral screen tube,Wire-wrap screen pipe,Mine screen mesh,Screen cylinders,Vibrating sieve screen plate.
Welcome to contact us for more information and cooperation.0086-0311-83289301
UBO "FLOW-WEDGE" screen nozzles have distinct advantages in that they are economical, non-clogging and ideally suited as collectors and distributors.
The most common standard nozzle is style "T" as shown. Efficient and easily installed in false bottom installations with lateral systems.
Standard "T" bolt, coupling and custom design connections are equally available.
UBO will provide complete engineering assistance in the design and selection of nozzle internal systems