UBO Screens wedge wire screen curved sieve screen plate can be used in a variety of applications ranging from classifying to recovering usable products that would end up in sewer lines to capturing solids from effluents. A continuous slot screen sieve bend gives you a great amount of open area, is significantly more affordable and requires less maintenance than vibrating or rotary drum options.
UBO Screens can manufacture sieve bends to your specifications, including construction materials and sizes. We can also design to your flow-rate requirement.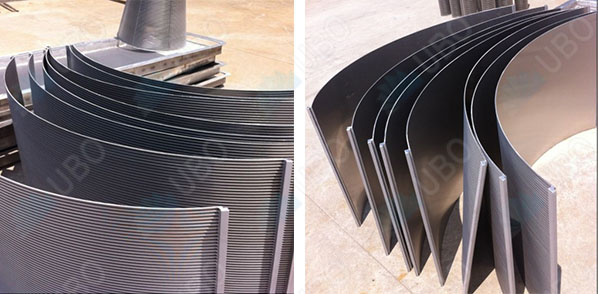 Application of Wedge wire screen curved sieve screen plate stainless steel
They are used in industries such as Sugar, Coal Mining & Quarrying, Mineral Processing, Cement, and Industrial & Urban Effluent Treatment etc. Sieve bend screens are also used as a pre-filter in urban & industrial waste treatment plants to improve the performance of the clarifier by drastically reducing the load. Widely used for fiber removal in Starch industry.
Features of Wedge wire screen curved sieve screen plate stainless steel
Low Headroom - only 1.1 metres (44") tall for the 900 mm arc length unit.
Energy Efficient - operates with no moving parts and with no energy input.
Space Efficient - treats up to 122 litres per second per square metre of floor space.
Quiet Operation - no moving parts means no mechanical or electrical vibrations.
Accurate Sizing - can be used for sizing solid particles down to 0.2 mm (0.008").
Low Maintenance - the profile wire screen resists clogging by near-size particles, and the all-stainless steel construction ensures a long, corrosion-free installation.
Easy Screen Replacement - a typical screen can be replaced in 10 minutes with no tools.