Wedge Wire Intertank screens can be produced in almost unlimited height and diameter with the wire running circumficial or long-slot rolled to the I.D. or the O.D. of the cylinder. These wedge wire cylinder screens can be manufactured for stationary/static processing or can be driven on trunnions for a rotating effect on your materials.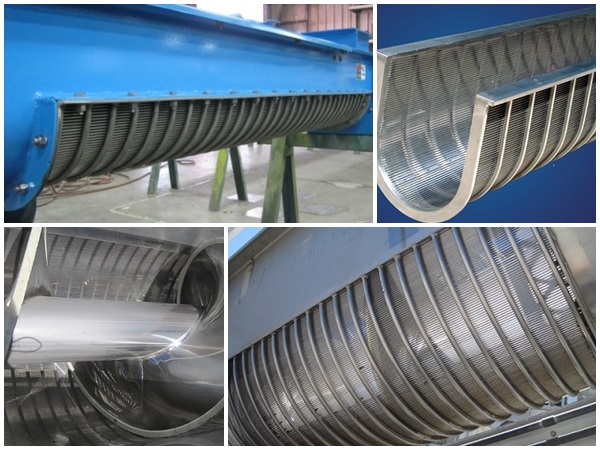 Application for Wedge Wire Intertank Screens:
Stainless steel Wedge wire screen cylinders can be used in waste water filtration, food processing, pulp and paper as well as mineral processing applications. Wedge wire or profile screen half cylinders can be added to an auger or screw press to separate solids from liquids in food, waste water, minerals and industrial grit/chips from coolant.
Features for Wedge Wire Intertank Screens:
- Volume processing of 20 tons per hour
- Solids dewatering moisture content of 70-73%
- Solids dewatering recovery of 20-25%
- Pollution prevention sensor to address secondary pollution
- Easy to manage self-cleaning glass mounted device
- 6 Chemical-free, excellent for recycling livestock manure
- 7 No vibration, no noise, no odor
V-Shaped Slots:
Openings shaped like a "v" that open toward the inside of the well tend to allow the particles that are just barely smaller than the width of the slot pass. In other shapes of openings, these particles would get caught in the screen and clog it.
Continuous Slots:
The special design gives continuous slot opening
across the periphery and length of screen.
Non Clogging Slots:
V-Shape wire which gives inwardly widening V-Shape slots.
This shape does not give space for any sand particle to get stuck inside the slot and hence these screens are NON CLOGGING.Hence, the efficiency of tube well is not reduced over no. of years due to clogging.
Very Large % Open Area:
This design gives continuous slot and hence the% open area for water to enter is more than 2 times that of conventional slotted pipes of any size and slot opening. This allows more water to enter at much lesser frictional head loss and the efficiency of tube well is improved appreciably.