Wedge wire screen nozzles are closed on one side and have a threaded fitting on the other. The screen nozzle with thread coupling can be fixed on the filtering equipment for the filteration of water petrol resin and other medium.One rubber shim , one steel shim and two thin nuts of the same material for a nozzle.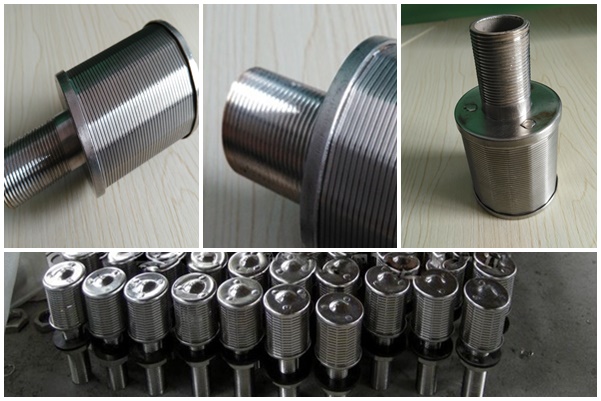 Applications of V Wire Screen Filter Nozzle for Industry Filtration
V wire screen filter nozzles are widely used in water softening treatment equipment, replace Polypropylene ( PP ) filter;sand filters, carbon filters, ion exchange systems, carbon absorbers,media retention, backwash retention, resin retention and resin traps.
Features of V Wire Screen Filter Nozzle for Industry Filtration
Wedge Wire sand filter nozzles have the features of great strength, precision, long service life and a wide range of applications in the field of process and engineering such as waste water treatment, sugar juice filtration, crude oil and natural gas production and vessel internals solving problems of solid / liquid and solid / gas separation, filtration of oils, greases, water, fuels, paints, food products, liquid cooling agents, and chemicals etc.