Slotted flat screen panel can be constructed using rectangular support rods or round support rods. They are the most widely used type of wedge wire screens mainly in the mineral processing both for stationery as well as vibratory decks.

Characters for Tilted Louver Cladding Type:
Mine screen meshes are new products in the line of wire mesh. They have the characters of easy leakage, corrosion resistant, abrasion resistant. It is strong to be acidproof, alkali resisting, bear high temperature, pulling force etc.
Applications forTilted Louver Cladding Type:
Widely uses in mine, coal, oil, fertilizer, grain, salt, and environmental protection industries.
For filtering of liquid, the powder material. On petroleum, chemical industry, metallurgy, mine, medicine purifies, the drilling mud purifies the equipment in particular the important fitting
Advantages for Tilted Louver Cladding Type:
1.Better filter function. The V-shape section plane of water well screens(Wedge Wire screens) creates the continuous slot, which can avoid blockage and make sure of the unimpeded water.
2. Prolong life of well. The consecutive slot of water well screens(Wedge Wire screens) have wider open area, and it can reduce the speed of the water entering to avoid the sand entering the screen under the great pressure, so it can control sand better, which can increase the water yield and prolong service time of the well.
3.Long service life. Wire and support rods are all-welded, which makes water well screens(Wedge Wire screens) more robust and longer life.
4.High pressure-resistant. The longitudinal support rods and the continuous slot make the water well screens(Wedge Wire screens) have more excellent pressure-resistant performance.
5.Customized. Specifications and end connections of water well screens(Wedge Wire type screens) can be fabricated according to customers' requirements.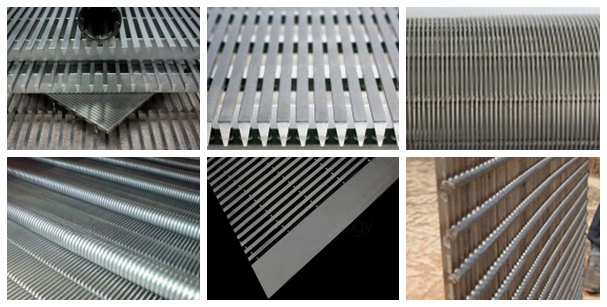 If you can envision it,We can supply it. TEL:0086-318- 5183240 E-mail:sales@ubooem.com
· Ubo will do everything possible to provide exact and full product information based on metal mesh for your information.
· In order to give customer a clear image of the product,Ubo has taken some pictures, customer can dowmload for reference but using our picture for business is forbidden.
· Due to technique and other factors,product image might be slight different to the products itself,in case everything will follow the products.
· Ubo appreciate any suggestion on our product information or picture or anything else.
Materials: Titanium wire, Nickel wire, Stainless steel wire, Galvanized wire, Iron wire , Steel wire.
Specification (wedge wire):

Width(mm): 1.50 1.80 2.30 3.00 3.30 3.70 Height(mm): 2.20 2.50 2.70 3.60 4.30 4.70 5.60 6.30 7.00

Specification (support rod):

Width(mm): 2.30 3.00 3.30 3.70 Height(mm): 2.70 3.60 4.70 5.60 6.30 Round: From 2.50mm to 6.0mm

Note: other specifications available as per request

Slot size

0.10, 0.15, 0.20, 0.25, 0.30…… 6.00mm also achieved upon request.

Material:

galvanized low carton (LCG), stainless steel (304,316 etc.)

Length

up to 6 meters.

Diameter

from 25mm to 1200mm.

End connection

Plain beveled ends, flanged or threaded couplings
We are manufacturer for producing filter mesh products, we can produce according to your requirements.