Wedge wire screens are metal mesh elements that find wide applications in screening, filtration, dehydration, and declination operations. They are used for sieving and filtering purposes.
We specialize in the supply of wedge wire screens and offer a unique position in the market to meet your specific requirements.
Choosing the right strainer element is crucial as it ensures the protection of downstream equipment and maintains the integrity of your end product. The effectiveness of a strainer depends on selecting the appropriate filter element for your process.
Wedge Wire filters VS perforated filters?
When should you choose a Wedge Wire Tube?
Wedge wire elements are ideal when finer straining capabilities are needed for round or square particles without using a filter or mesh overlay. If the pressure drop is an important consideration, wedge wire elements work well in highly viscous applications where pressure drop might be higher.
When should you choose a perforated metal tube?
Perforated filtration elements are suitable for sanitary applications requiring 3-A certification. They are preferred when capturing larger particles and solids to prevent damage to downstream equipment. Perforated elements can also strain finer particles by incorporating filter media or mesh overlays.
Selecting filtration elements designed specifically for your application can be challenging as choosing the wrong one may lead to problems with downstream equipment if it fails to capture the proper amount of solids.
Our wedge wire filters, cylinders, and slot tubes utilize profiled wedge wires rolled and welded onto support rods at regular intervals. This design offers maximum open area, strength, efficient filtration, and overflow channeling capability. We provide various profiles and support rod options along with customizable specifications according to your needs.
Our Johnson wedge wire screen filters find application across industries such as pharmaceuticals, food and beverage processing, petrochemicals, chemicals, wastewater treatment, and backwash/cleaning systems. The profiled 'V-shaped' wires not only minimize clogging but also facilitate self-cleaning effects within our wedge wire filters.
We offer three distinct options when it comes to our wedge wire filters, cylinders, and slot tubes: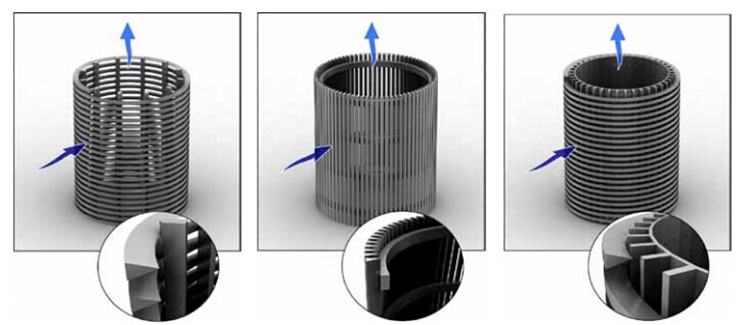 Each intersection of rod and wire in our wedgewire screens is welded to provide strength. This welding technique offers significant benefits such as reduced costs due to the long life of the wedge wire screens. Moreover, they exhibit greater resistance to stresses caused by differential pressure and temperature cycling.
In conclusion, don't hesitate to contact our filtration experts for guidance with your specific application needs. We are here to assist you in making the right choice for optimal filtration performance.