Main filter media of cone filters is stainless steel weaving wire cloth and multiple layers sintered wire mesh. On the basis of features and advantage of disc filter, cone filter increases filter area and easily discharges the material. The size is available at the customers' request.
Application for Temporary Strainer for any fluids application:
Wire mesh filter disc is mainly used in distillation, absorption, evaporation and filtration process of rubber, plastic industry, the screening of grain and oil, petroleum, chemical industry, light industry, medicine, metallurgy, machinery, shipbuilding and other industries. Wire mesh filter disc also can be used as air filter for car.
Advantages for Temporary Strainer for any fluids application :
1. Strength: As fourth and fifth layers do support, with high mechanical strength and
compressive strength.
2. Easy to clean: As a result of surface of the filter material, having means for
cleaning characteristics, especially suitable for backwashing.
3. Easy processing: suitable for cutting, bending, stamping, drawing, welding and other processes.
4. High temperature: 480 °Ccan withstand high temperatures.
5. Corrosion resistance: As a result of SUS316L, 304 materials, the corrosion resistance.
6. Filtration: Filtration range of 2μm-200μm, has a reliable filter performance.
7. Stability: Because there are two layers to do to protect the screen, plus solid melting
diffusion sintering process which make filters is not easily to deform.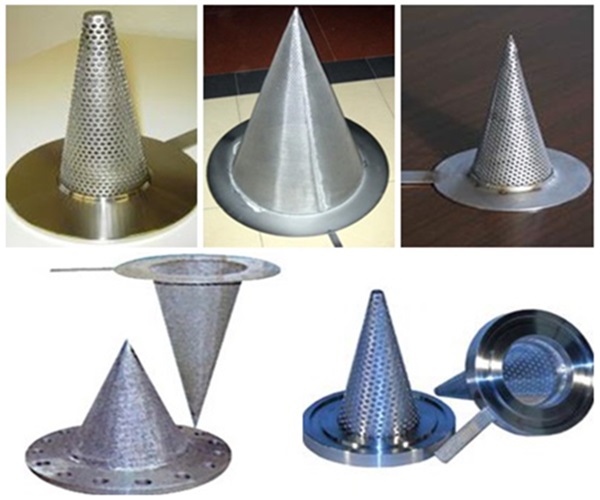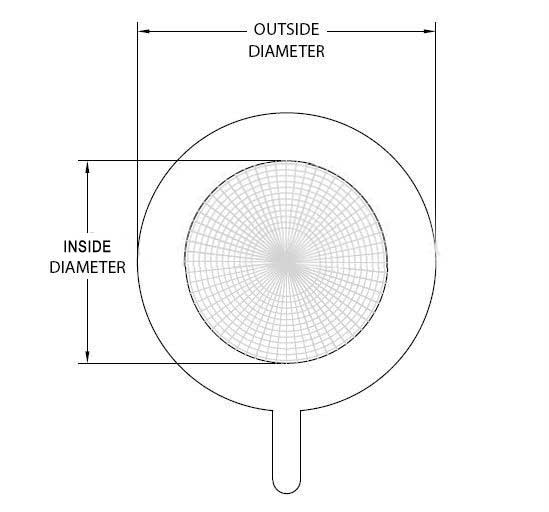 Construction : Stainless Steel (SS 304 & SS 316)
Connections : Suitable for mounting in between Flanges of pipe joints.
Range : Sizes from NB 20 onwards.
Flanges suitable for mounting in DIN or ASA Flanges.
Micro rating as per customers requirement.
Nominal Pipe Size

Inches

Inches

L

D

F

B

F MIN

Area in Sq. In.

D1

150#

300#

600#

1 1/2"

4

1 1/2

1/8

5/8

.125

13.7

3 1/8

3 1/2

3 1/2

2"

4 1/2

2

1/8

7/8

.125

21.1

3 7/8

4 1/8

4 1/8

2 1/2"

5 1/2

2 1/2

1/8

7/8

.125

30.3

4 5/8

4 7/8

4 7/8

3"

6 1/2

3

1/8

1

.125

42.1

5 1/8

5 5/8

5 5/8

4"

8 1/8

4

1/8

1 1/2

.125

76.0

6 5/8

6 7/8

7 1/8

5"

10 1/2

5

1/8

2

.125

123.0

7 1/2

8 1/4

9 1/4

6"

13

6

1/8

2 1/2

.125

180.0

8 1/2

9 5/8

10 1/4

8"

17

7 7/8

1/8

3

.125

300.4

10 3/4

11 7/8

12 3/8

10"

21

9 3/8

1/8

3 1/2

.125

438.5

13 1/8

14

15 3/8

12"

25

11 1/2

3/16

4

.188

621.3

15 7/8

16 3/8

17 5/8

14"

26

13 1/8

3/16

4

.188

722.6

17 1/2

18 7/8

19 1/8

16"

29 1/2

15 1/8

3/16

4

.188

914.4

20

21

22

18"

33

17 1/8

3/16

4

.188

1129.2

21 3/8

23 1/4

23 7/8

20"

37

19 1/8

3/16

4

.188

1384.4

23 5/8

25 1/2

26 5/8

24"

44

22

3/16

4

.188

1846.8

28

30 1/4

30 7/8