The wedge wire screen filter is an important working part of the screening machine to complete the screening process. Each screening machine must select a wedge wire flat screen that meets its working requirements. The various characteristics of the material, the different structures of the sieve plate, the material, and the various parameters of the sieve machine have a certain influence on the screening ability, efficiency, running rate, and life of the vibrating screen.
Different materials and different places should use different sieve plates to achieve the best effect of screening. The sieve plate should have sufficient strength, high opening ratio and difficulty in plugging holes. When the vibrating screen vibrates, the wedge wire sieve plate passes through materials of different shapes and sizes, material size, and under the action of vibration force, the materials of different particle sizes are separated to achieve the purpose of classification.

Features:
1) Widely used in various kinds of medium filtering
2) As the fitting using in the water-treating equipment ( the environment protection; the sea water transforms into the industrial water and life use water desalination treatment; running water, etc)
3) Wedge wire screen style isn't easy to be locked, it's easy to clean.
4) All kinds of shapes and materials can be custom

Specifications of stainless steel wedge wire screen plate:
Length Range: Up to 6000mm
Width Range: Up to 6000mm
Slot Range: 20 microns to 3000 microns (Tolerance:+-5 micron)
Other Shapes: Could cut to any shape according to requirement, such as round, semicircle, sector, and so on.
Wedge Wire: 0.5x1.5; 0.75x1.5; 1x2; 1.5x2; 2x3; 2x4; 3x5
Support Rod: 1.5x2.5; 2x3; 1.5x2.5; 2x3; 1.5x2.5; 2x3; 1.8x2.5; 2x3; 2x4; 3x5; 3x6; 3x10; 4x6; 2x4; 5x6; 5x8
End Finishing: With the frame, without any frame, according to request.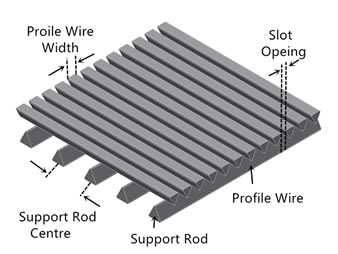 Application of our Wedge Wire Screen Flat Panel:
It can be used in a variety of industry, such as the wastewater treatment; the sea water transforms into the industrial water and life use water desalination treatment; running water treatment; softening treatment;etc.
Detail:
Our wedge wire screen flat panel needs to be customized according to each type of equipment used, so dear customers need to provide various details of the screen panel, such as drawings, gaps, diameters, supports, types, the use, etc., or You can leave us a message directly, we will get in touch with you as soon as possible. Such as :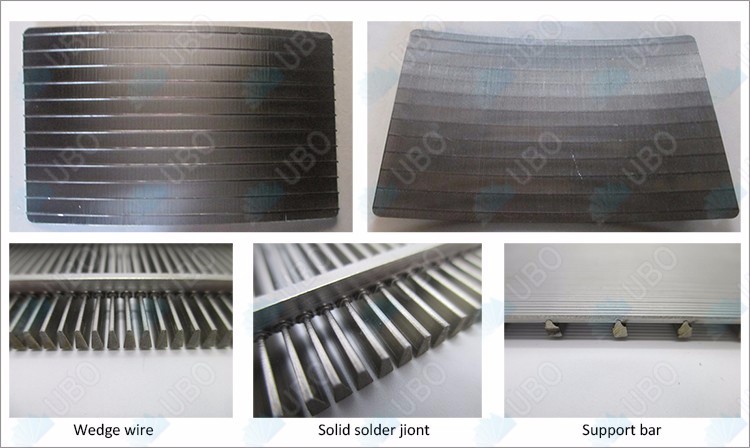 SLOT SIZE (MM): 0.025MM 0.10, 0.15, 0.2, 0.25, 0.30-3MM
OPEN AREA: UP TO 60%
MATERIAL: LOW CARBON, LOW CARBON GALVANIZED STEEL (LCG) STEEL , STAINLESS STEEL (304 ETC.) LENGTHS UP TO 6 METERS
DIAMETER: RANGING FROM 25 TO 800MM
END CONNECTION: PLAIN BEVELED ENDS FOR BUTT WELDING OR THREADED
MATERIAL: LOW CARBON GALVANIZED ( LCG ) AND STAINLESS STEEL (SS)
SLOT (MM): 0.025 0.1、0.25、0.50、0.75、1.00、1.50、2.00、3.00 AND SO ON.
PRODUCTION AND SALES OF FLAT PANEL WEDGE WIRE SCREENS